NORTH EAST — There's a clear, late-August evening unfolding over the river, but Walter Dorsett, who's photographed every sunset for nearly a year now, knows better than to be too sure: "Looks like it's going to be pretty good," he says. "There might be some red. Those thin clouds there should hold the color, but it's hard to say."
During this Aug. 25 sunset shoot at the North East River Yacht Club, Dorsett seems either distracted by or highly focused on things I can't see. His eyes, a stern brown, jolt from pier to pier, boat to boat, then back again into the sky. He rarely makes eye contact, and when he does, it's for short, concentrated bursts. He's keenly aware that his next great photo, the one that might be the jewel of tonight's Facebook post, could come at any moment.
Well, if only the sun would cooperate.
Though he speaks about it all the time, Dorsett isn't one to make small talk about the weather. When he mentions the sun, or a cloud formation, or the likelihood of a lightning bolt hitting nearby (he has an app on his phone for that), he means business. This obsessive attention to detail is a big part of why he's become Cecil County's favorite photographer at the improbable age of 19. His Facebook page, "Walter Dorsett Photography," has reeled in more than 13,000 followers — most of them in the last nine months or so — and it's surging. It's become common in any given week for his posts to reach hundreds of thousands of people.
That popularity extends to his everyday life. If he goes out shopping or to the movies, people recognize him. Some tell him they love his work; others ask to pose with him for pictures. While he and I talk on a pier that Thursday, a middle-aged man steering his boat in for the night says, "Hey, Walt, congratulations," likely in reference to the Weather Channel photography competition from which he has recently won $500. As far as he can remember, he has never met the man.
"I don't mind it," Dorsett says. "It's just weird when I don't know them and then we start having a conversation."
At one point during this interview at the yacht club, I get the feeling that despite Dorsett's knack for engagement and self-promotion on social media, he cherishes these quiet moments. I ask if he often shoots sunsets alone.
"Usually, unless my fiancé wants to come," he says (he's engaged to 20-year-old Kasey Lee, a woman he's been dating since the eighth grade). "But she doesn't really like it too much. I mean, she likes what I do, but she doesn't like to sit and wait. She doesn't see, I guess, what I see. Like she'll look out and just see a boat. She won't see any reflections or movement in the water, or anything like that. She's not that, I guess, patient."
But "patient" may not be the best word to describe Dorsett either. On this evening, in fact, he's fairly impatient. At 7:39 p.m., he changes his earlier optimistic prediction to "this sunset pretty much sucks;" then a couple minutes later to "maybe I was right;" then to "well, it's pretty colorful that way;" to finally, at 7:54 p.m., "so it is actually pretty good. I just love predicting what color we're going to get and then being right."
Persistent is probably a better word.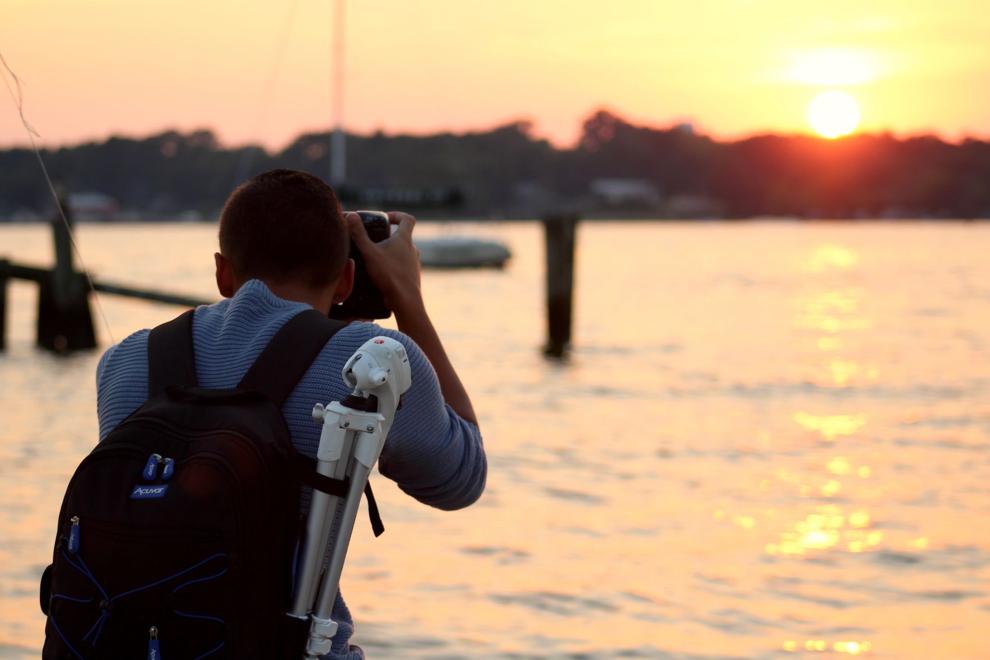 21ST-CENTURY PHOTOGRAPHER
I soon learn that not all is right with Dorsett. For one, like many teenagers without a conventional job, he's broke. He relies on infrequent portrait sessions and the occasional print purchase to get by. Over the course of several more interviews, he speaks in increasingly frustrated tones about people who assume his photography is already highly profitable.
"A lot of people seem to think I work for them, or, you know, I'm doing this solely for them," he says. "I'm not rich. It costs me so much to do this all the time."
That's partly why winning the $500 fan favorite prize in the Weather Channel's "It's Amazing Out There" competition means so much to him, and why he feels so crushed on Aug. 28, when he learns that his photo hasn't been selected as a finalist for the $15,000 grand prize.
When we meet the next day in Chesapeake Bay Coffee Co., at a table next to the large window looking out on North East's Main Street, he's reserved and despondent. He expected to win, and the poor result evidently has hurt him: "[The judges] could have, I think, done better. There was so much more."
Dorsett, whose slight build makes him look several inches shorter than the 5-foot-11 height listed on his driver's license, sulks like this for awhile, alternating gloomy answers about the future with sips on an iced latte. Eventually, however, he eases back into his positive streak.
For example, he tells me, he's considering entering his work to other nature and wildlife photography contests. In addition to that, Sandy Cove Ministries intends to buy a print from him worth several hundred dollars in the next day or two. And in the winter, when the days narrow and he doesn't have to stay up so late to shoot the sun going down, he plans to photograph both sunsets and sunrises, and maybe publish a calendar or a photo book with the results. To top it off, he turns 20 on Sept. 12.
Just like that, Dorsett appears the part of the bright young artist again — the one his online followers know.
"It's a little embarrassing," he says when I ask if he's posted to his Facebook page about the contest results (he hasn't, and later he'll decide not to mention it until this article is published). "I mean, it's still a big deal that I won the fan favorite voting, so that's probably what the post is going to be about."
We talk in the coffee shop for about 30 minutes before I ask him to show me where he operated a photography studio for a few months in 2015, before he ran out of money and closed it. Even now, about a year after he left, it still shows up when searching North East on Google Maps — 5 E. Wallace Avenue, right behind the coffee shop.
Dorsett says he thought a studio would boost his print sales. Unfortunately, it didn't. Last year, he notes, he didn't have the type of Facebook following he has now, and the shop, which is situated inconveniently off Main Street, went largely unnoticed.
And how did he, at 18 years old, have the money for it?
There's more to know about Dorsett.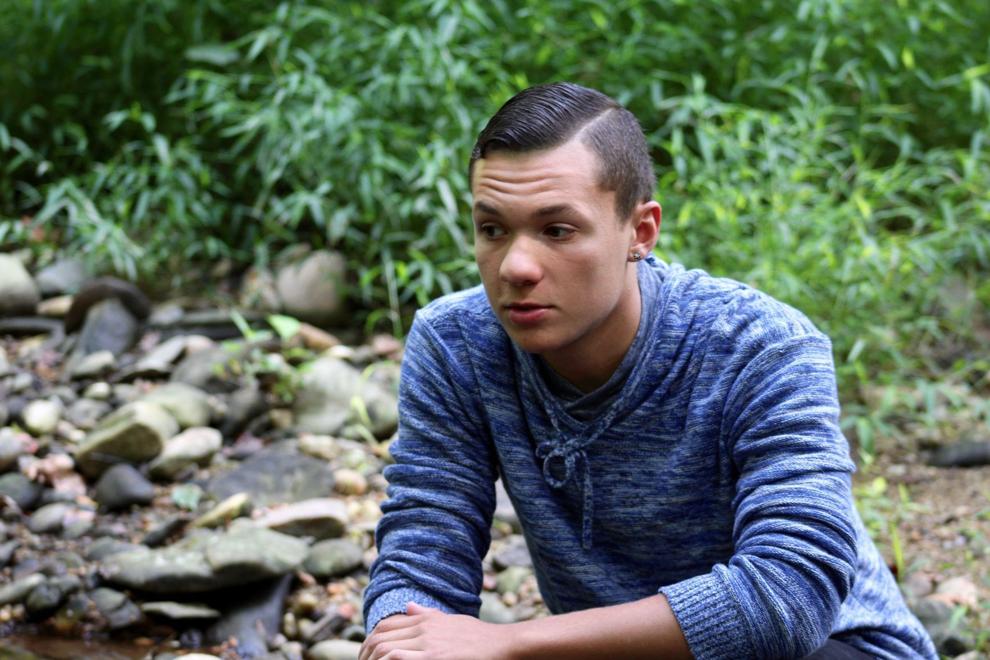 He was born in Annapolis in 1996 to Melissa and Walter Dorsett, and he lived with them, as well as a brother and sister, in Baltimore County until his parents divorced in 2002, and his dad left. In 2005, around the time Dorsett's grandparents gave him his first camera, his mother moved him and his siblings to Baltimore City to stay with his aunt while workers finished construction on their North East home. The family eventually moved to Cecil County in 2007.
In sixth grade at North East Middle School, Dorsett met Kasey Lee, the woman he now plans to marry. The two started dating in eighth grade and have been together ever since.
"From that point on, I don't know, we just never felt the need to leave each other," Lee says outside her parents' house on Aug. 31, while the evening sun sinks beyond the trees along Turkey Point Rd. At this moment, Lee is sitting in the remembrance garden Dorsett has built for her to honor the upcoming anniversary of her grandmother Drema Clark's death. When she speaks about how Dorsett would, on his own, visit Clark in hospice, her face brightens.
"We've made it a long way now, especially for only being 20," she says.
Back when they attended North East High School, Dorsett and Lee both joined the Future Business Leaders of America, an organization designed to foster business skills, and Dorsett served for a time as president. He speaks highly of his experience there and considers it important to what he's doing now, though he's not the biggest fan of school and considers personal independence more important than education.
As a 15-year-old, Dorsett began creating and growing meme-focused Instagram pages — at least one of which he sold for $10,000 to New York-based company The BLU Market, and which sometimes had more than a million followers when he did (a message to The BLU Market to confirm or deny this has not been returned, but Dorsett says he made several sales). One such sale, he says, was the Instagram page "ifunnymeme," which has 1.1 million followers, and that his last post before handing over the reins came on Nov. 7, 2013.
That final post is a still of Will Ferrell from the 2003 film "Elf," with the text "SMILING'S MY FAVORITE" spanned across the bottom. It has roughly 105,000 likes.
Dorsett says he used some of the money from those sales to buy his current camera equipment and his car, a new white Fiat. He also used some of it on the rent for his now-closed photography studio.
He and Lee have lived together at her parents' house for almost two years — just about since fall 2014, when his mom kicked him out of the house. The eviction came as the final straw in a mother-son relationship that'd been stretched thin in recent years.
According to Dorsett, his mom (now Melissa Cox after remarrying) overreacted to him spending nights with Lee. According to Cox, he'd grown into an adult unwilling to listen to her rules. In a Sept. 5 phone interview, she says: "When you're 18, and you don't follow rules, you have to leave." She adds that they talk occasionally and that she's proud of his work ethic and independence.
For about a year after he was kicked out, Dorsett says, he struggled with depression and saw a therapist regularly. In the wake of these turbulent months, he immersed himself in photography like he hadn't before, and while he had no formal training outside of a class early in high school and one at Cecil College in which he felt confined, his talent soon became self-evident.
"I just want people to know … that they can work toward their dreams or their goals, having worked through so much stuff," he says. "It is really, really hard to do, though."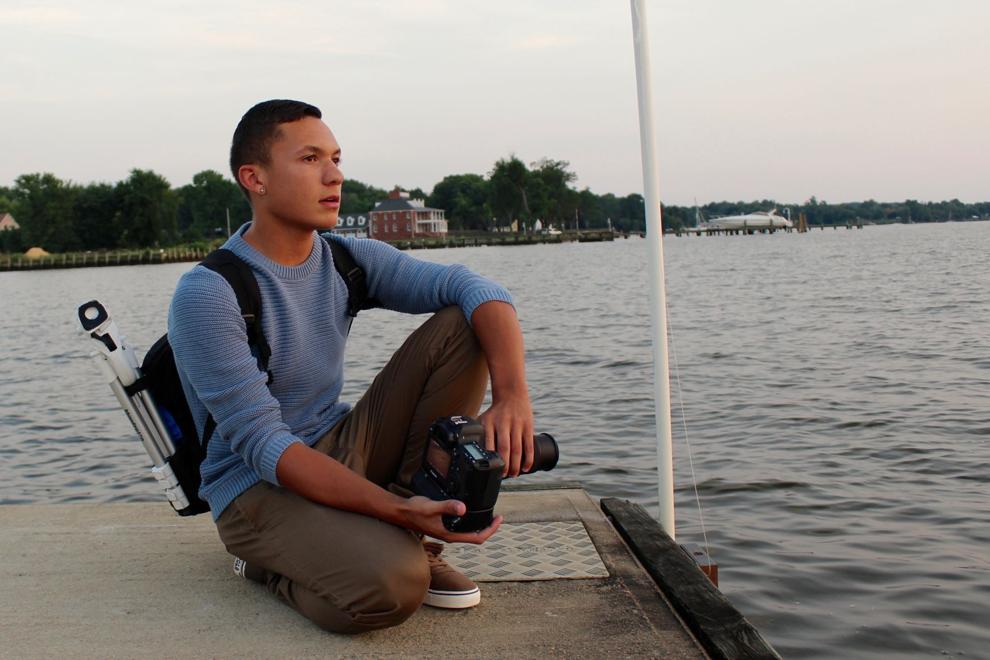 As much as Dorsett seems to crave approval, perhaps what he enjoys most is doing things for others. He likes to see people around him happy. At the Lee household in North East, there are several examples of the projects he's taken on to please others.
There's the remembrance garden he designed and installed to honor Drema Clark, which includes the letters "D-R-E-M-A" running vertically down a tree. There's the basement, which he painted and turned into a Baltimore Ravens den before football season last year. There's even a small, tarp-covered box extension on his window where his young cat Daisy can perch to look outside. "[Daisy's] his baby, his baby gets whatever she wants," Kasey says.
"He does a lot of things out of the kindness of his heart, he really does," says Chris Lee, Kasey's father and a superintendent at the contracting company KBR, while sitting in their living room on Aug. 31. It's an open space with a high ceiling, reminiscent of a one-room wooden cabin, and tonight the evening news sounds from a TV along the far wall. Several hunting trophies adorn the room, namely a mounted deer head and a stuffed bear (Dorsett has hunted with the family before, though they say he's not especially interested and has never shot anything). "Just generally a good dude," Chris says.
"It amazes me right now," says Kasey's mother Donna Marie Clark Lee of Dorsett's newfound success. "I'm just hoping one day somebody comes along and says, 'Wow, you are amazing,' you know? I want him to get somewhere he deserves to be."
It's easy to see why Dorsett feels comfortable here, why he considers Chris and Donna Lee his parental figures of note. Donna has run a home daycare out of the house for the last two decades and seen something like 50 kids grow up through that time, she says. The Lees also have well over a dozen pets — cats, a dog and a fox that comes around for food, as well as other smaller creatures.
After talking inside for awhile, we all walk to the backyard to take a family photo, and I ask Dorsett to position everyone for what he thinks will make the ideal picture. I expect him to use the dusk's gold coloring to illuminate his and the Lees' faces; instead, he tells everyone to turn their backs to the sun, so that long shadows stretch out from their feet. The effect is an ethereal one, with sunlight forming a yellowish orb in the upper right-hand corner.
Half a minute passes, and I tell them I have the photos I need. Dorsett, who I notice acting antsy in a familiar way, asks if he can get me anything else. He glances at me, then up at the sky, then to his phone. The sun is, after all, setting soon, and better yet, forecasts show a lightning storm headed our way tonight. I tell him no.
He walks quickly behind the house, and soon I hear the sound of tires rotating over the driveway.
"He sees things that no one else sees," Kasey says after he's gone. "Sometimes we'll go out to sunset, and I'll say, 'It's a sunset,' like I see this every single day. And he's like, 'No, you don't see the water, and the trees, and then the clouds over there?' … I don't see that like he does."
But it's good that someone does.