ELKTON — Some days, Nate Hodge spends hours thinking back to the last time he got high. In those moments, it feels like he's dreaming, bound to wake up to that hazy nightmare he used to live.
Frankly, he's been sober so long that it seems too good to be true.
"I was actually sitting back about a week ago, smoking a cigarette, just shocked," Hodge said while sitting in an Elkton restaurant in mid-December, his fingers wrapped around a cup of coffee. "Thinking like, 'There's no way I've gone this long without doing something. I have to have done something — took a hit of weed or something.' I sat there for like two hours going through all this time and realized I really haven't done anything."
Maybe 500 days of sobriety doesn't sound like a lot. But for a 29-year-old who grew up surrounded by addicts, who's seen a chunk of childhood friends grow up to be addicts with him, who has battled his own tendency to abuse drugs for half a lifetime now, it's nothing short of a miracle. He wants you to know all about it.
He wants you to know that he used to sell crack to support his own habit of using it, that at one point he sold the bicycle he'd bought for his daughter Kayleigh so he'd have the money to score. He also wants you to know that he's trying to give back now, to make up for all that lost time. The only things he's ever been able to collect, he says, are a criminal record and his clean time.
Since entering rehab in August 2015, Hodge has been working hard on himself. He's spent months in deeper reflection than at any other time in his adult life, and he's emerged with an urge to help the community that molded him — first into an addict, then into a leader.
On Saturday night, the sober New Year's Eve event he organized will bring a full house to Gracie's Cafe in Elkton (it's been sold out for weeks), and both he and the cafe's higher-ups hope to make the spot something of a hangout for the area's recovery community in the coming year.
Hodge also has dreams for his rap music, which deals head-on with his addiction, to reach a wider audience. On top of that, he'd like to eventually start hosting field trips for the kids who live in North East's Lakeside Trailer Park, where he used to live, to expose them to the larger world outside.
Who knows? Maybe he'd find a younger version of himself in the children who live there. Maybe he'd be able to warn a kid away from the trouble he's embraced, fought through and emerged from himself.
Maybe he could save someone before they had to save themselves.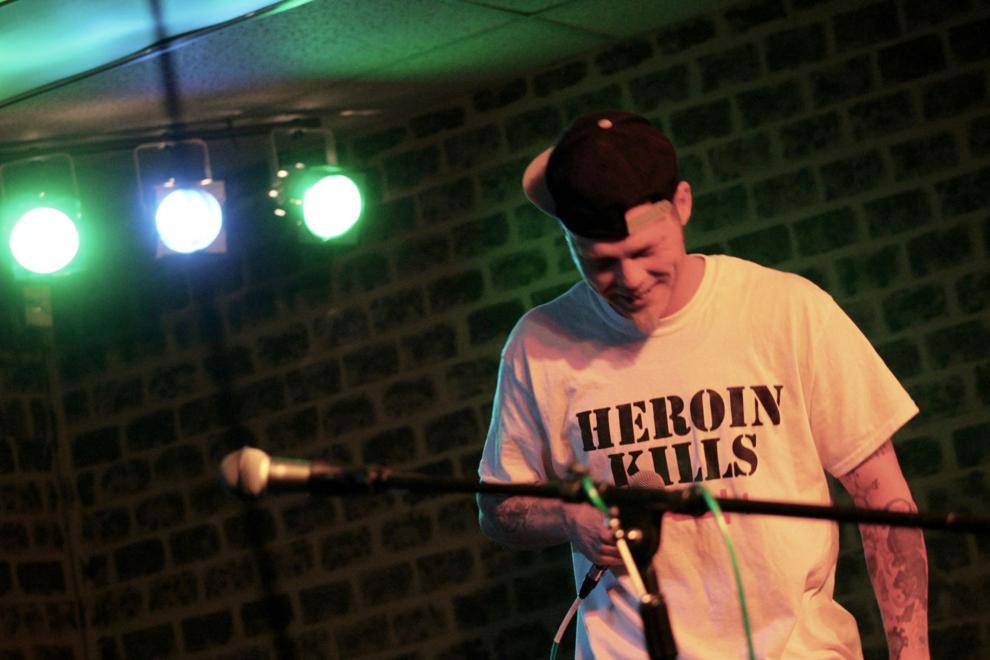 Hodge is a man of extremes, even among addicts. He stands around 5-foot-9 and has a fairly standard, wiry frame, but his blue eyes and restless energy make him stick out in a crowd. He jumps around so much that when he does zero in to talk about something he cares passionately about, you want to listen.
In the lead up to the New Year's Eve event at Gracie's, he's been performing two songs at each Friday's open mic there — for the hype, he says. His rap persona, Gunsmoke, assumes an unabashed, confessional tone about addiction and recovery (songs have titles like "Scars," "Reflections" and "Pain Wont Last" [sic]), and he'll be playing a 30-minute set at the event.
On the evening of Dec. 16, just before going on at Gracie's, he opened up about his history in music. He would have been a country singer, he says, if he had any ability to sing. He doesn't, so he uses his unusually raspy voice — damaged from years of smoking — to drawl out lyrics. It's successful because it's indisputably real.
Hodge grew up bouncing between his parents in Elkton and his grandparents in Port Deposit. He fell in with Juggalo culture (the name assumed by fans of the Insane Clown Posse rap group and Psychopathic Records label) and started smoking weed when he was 13.
"Most of my drug trouble started out in the Manor in Elkton," he said. "That was the beginning of it."
The drugs were something to do for Hodge, and they went along with the bad boy reputation he was building for himself.
As a small man, he always felt he had something to prove, he says. And if that chip on his shoulder is now directed toward bettering the community against all odds, it used to be directed toward fist-fighting opponents bigger than him and getting into trouble with the law. He got in his first real fight as a sixth-grader at Elkton Middle School. He remembers it well.
"We were doing laps around the gym and there was this kid who, like I was new in the school, so people would pick on the new kid," Hodge said. "So I'm running, and this kid's running behind me the whole time, just like making fun of me, making fun of me. And I kept ignoring it, kept ignoring it. Then he said something about my mom, and once he said that, I planted my foot, spun around and hit him. He never hit me one time, I just beat the [expletive] out of him. And the gym guy grabbed me. That was it. Got suspended for it and everything."
He fought so much throughout middle school that he was more or less forced to move to Port Deposit with his grandparents. That started a cycle he would repeat over and over throughout his teens and early adulthood: he'd start doing better in Port Deposit, move back to Elkton, start doing worse, then repeat. After about a year with his grandparents, he moved back in with his parents as a 15-year-old, to Lakeside Trailer Park.
"Growing up I always looked up to him, always wanted to be like him," said John Davis, Hodge's 24-year-old cousin. "He was always the center of attention, always was a loud guy — could fight, could rap. He was just a cool guy. I started using drugs with him, the smoking weed, the drinking."
From marijuana and alcohol, Hodge moved to cocaine and hallucinogenics. He and some friends began stealing cars and wrecking them. Eventually, after what Hodge estimated as more than 20 stolen cars, police caught on and shut them down.
The court system offered the teenage Hodge a deal to avoid prison time: move back in with the grandparents in Port Deposit, go on house arrest, and work a job when not in school. For a time, that kept him stable.
Then, while drinking one night, Hodge first used the drug that would become his personal demon through his 20s — crack cocaine.
"If I was gonna relapse today, it'd be with crack cocaine," he said. "That's the one that's got me."
Throughout much of the next decade, he'd smoke crack cocaine and take opioids to come down. His fiendish need for those drugs landed him in prison several times, cost him countless material possessions and forced the mother of his daughter Kayleigh to leave him several years ago.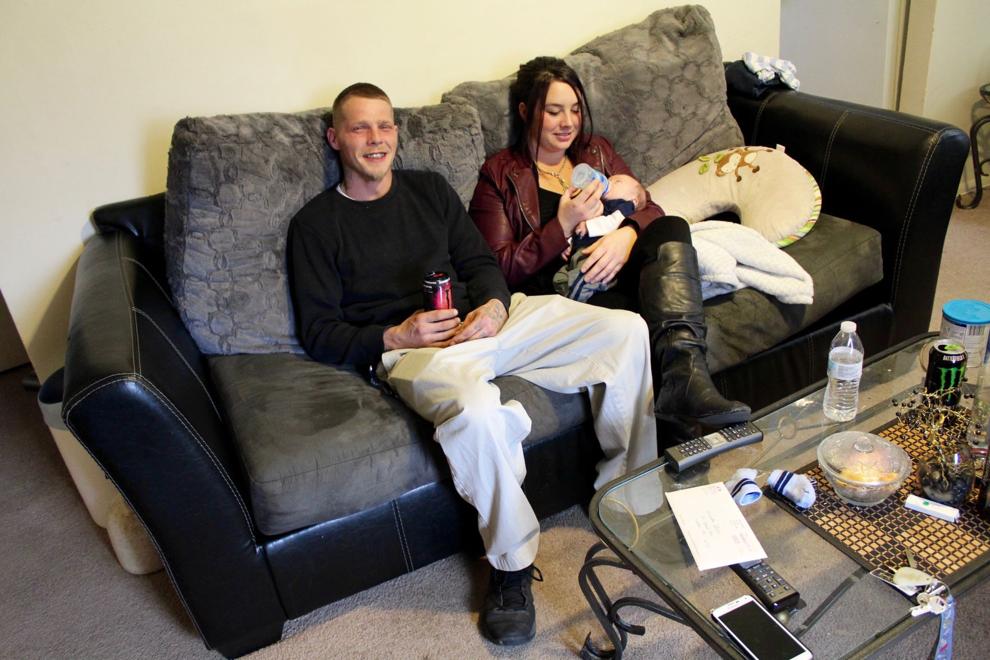 Hodge grew up in an environment that seemed set to bring about his failure. His parents abused drugs, as did his aunts and uncles, and he discovered this in middle school when classes started teaching about drug use. As a 12-year-old, he started putting the pieces together.
"Kids don't do what they're told," Hodge said. "They do what they see. My dad was an addict, and I even said it: 'I'll never be like that.' Then I ended up like that."
Davis, Hodge's cousin, who now lives with his girlfriend and daughter in North East and works at Vulcan Materials in Havre de Grace, fell into a similar downward trajectory. At 13, he overdosed for the first time, on drugs his mother had given him. At 17, he was shooting heroin with her.
Perhaps partly because he started so early, Davis hit rock bottom more quickly than a lot of those around him, including Hodge. In May 2013, as a 21-year-old, he got himself into rehab and recovery. But not everyone around him took kindly to the new him.
"A lot of my family felt like I was putting on that 'I'm-better-than' approach," Davis said of the start of his recovery period. "They kind of all resented me there for a while. It was real painful, and I tried to promote recovery, telling them this thing works, and all I did was push them away. I had to just separate myself and get them attracted to me, rather than promote it."
But now that Hodge is also clean, the two have inspired a sort of domino reaction in the family. More and more members are taking steps toward recovery. Together, they speak of a phoenix-rising-from-the-ashes type of hope.
And if not for recovery, Hodge would have never met his fiancé, Miranda Steen, and they would have never had their son Damien, who was born in November. The two met at a recovery meeting in October 2015 and soon after began dating. Now, a little more than a year later, they live together in a house in Elkton.
On Dec. 21, days before Hodge proposed to her on Christmas, Steen, 23, said she was first struck by Hodge's independence, his adaptability. Her other boyfriends had been lazy and undependable, but here was a man who not only worked but worked hard, and who, because of his vast network, could get to work with or without a car.
In the early parts of their relationship, they'd often just walk. That's how they got to know each other. For one date, they walked a number of miles from Hodge's old house to Ruby Tuesday's and back again.
But Hodge's recovery activism today comes at a cost, too. The two share Steen's car, but mostly that means Hodge takes it to his construction jobs while Steen stays home with Damien. With all he's taken on for the Gracie's event and for his music, sometimes she feels like she never sees him.
"We're trying to work that out now," she said.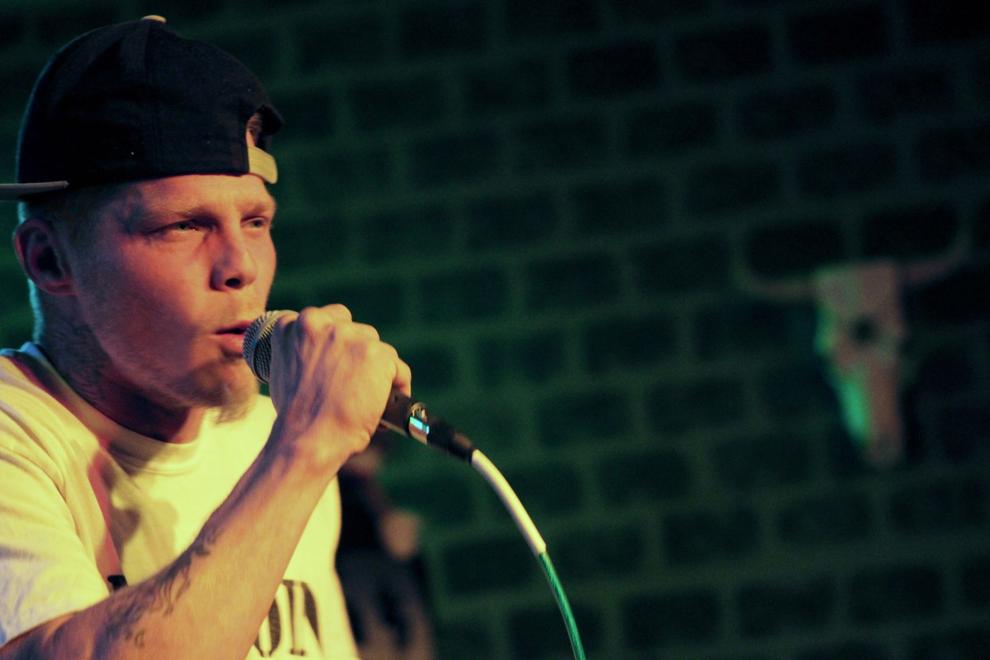 The first time Hodge visited Gracie's to discuss the possibility of a recovery concert, the operators there weren't quite sure about his focus. They're approached about concert ideas fairly frequently, so they've had to become picky about the ones they put on. When Hodge came by again to speak with Glenn Richman, however, it became clear that this event would serve a genuine community interest.
"Nate is absolutely full of energy and passionate about what he's doing," Richman, who's one of the lead operators there, said. "He's very excited about the opportunity to put on this event, and to do something really positive in the recovery community here in Elkton. And that shows in everything he does. Certainly, if you spend time with him, that becomes really obvious."
Together, the two hope to host these clean, recovery-centered concerts with more regularity in 2017.
During that open mic night on Dec. 16, the inside of Gracie's was a mix of older musicians and music lovers, as well as a younger, rougher-looking crowd — Hodge's crowd. After Hodge performed his two songs for the night, "Scars" and "Hurt," a man sitting at the back of the room pulled him aside and thanked him. They hadn't met before.
"He gave his soul to us," the man, who asked to remain nameless, said later. "That's not easy to do."
Soon after, Hodge and Davis, as well as two other childhood friends who were interested in entering recovery for themselves, smoked outside and joked in the comfortable way that men who have known each other for decades can.
Here they were, spending time together as adults and actually looking forward to what the future had in store for them, rather than doing everything possible to ignore it. Growing up, they certainly hadn't envisioned this one for themselves. The night was cold, crisp, and breath came out in small clouds. The men seemed happy to be there and not somewhere darker — that much was clear.
"You thought smoking weed and shooting dope was cool," Davis said as the group made its way back inside Gracie's, laughing. "We're gonna make being clean cool."