GALENA — Efforts aimed at improving the health of the Sassafras River have ShoreRivers moving a lot of dirt in northern Kent County.
With a merger of several riverkeeper offices on the Mid-Shore last year establishing ShoreRivers, large stream restoration projects that began under the auspices of the Sassafras River Association remain underway.
Project sites include Colchester Farm outside Georgetown, Starkey Farms near Galena and a third farm that drains into Swantown Creek east of Galena. The projects are aimed at reducing pollutants — nutrient and sediment runoff — from entering streams that feed the Sassafras River.
"Each and every one of these local streams and drainages, we're basically providing kind of a last-chance treatment in these ag settings," said Josh Thompson during a tour of the aforementioned sites April 13.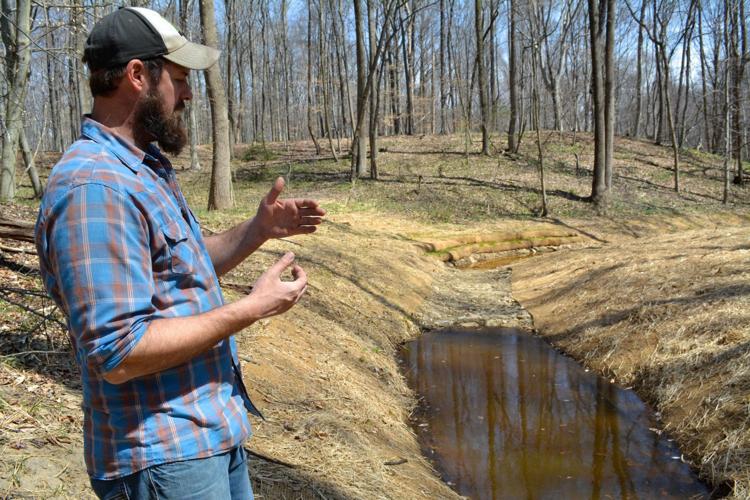 Sassafras Program Manager Kim Righi said such restoration efforts really began 10 years ago. She said the organization began preparing an action plan to clean up the Sassafras River as federal, state and local officials worked on a pollution diet program for the Chesapeake Bay.
Watersheds are the lands and tributaries that feed larger bodies of water. The Bay's watershed includes six states, running as far north as New York. The Sassafras River watershed spans Cecil and Kent counties in Maryland and New Castle County, Del.
ShoreRivers prepared the Sassafras Watershed Action Plan with 30 recommended targets to help improve the river.
"And some of it is awareness, public education. But a lot of it is targeting restoration work," Righi said.
Thompson outlined a best-case scenario for farmers, in which they follow nutrient management plans, have a good growing year with optimal rains and crop production levels and use all the nutrients they put down in their fields.
"But it's almost never that scenario. So there's always going to be losses. And we're basically placing these projects in the landscape where we're going to maximize the opportunity to capture that runoff, capture that loss of nutrients," Thompson said.
All three projects toured April 13 were funded by the Maryland Department of Natural Resources' Chesapeake and Atlantic Coastal Bay Trust Fund.
The day began at the Colchester site, where Thompson said work on building cascading treatment wetlands wrapped last fall. The project cost $90,000.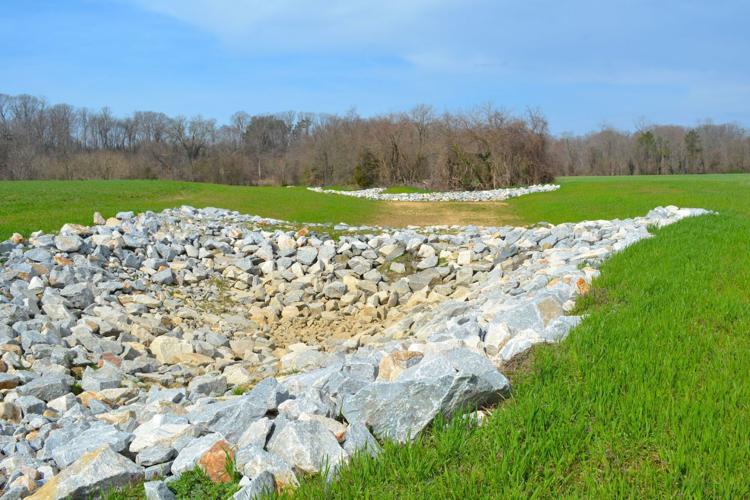 ShoreRivers partnered with Ridge to Reefs — a nonprofit that assists in the "local creation and implementation of watershed plans," according to its website — on the Colchester Farm project. A restoration ecologist for Ridge to Reefs, Drew Koslow, previously served as ShoreRivers' Choptank riverkeeper.
Thompson said the cascading wetlands' four cells, plus retention sites at the top and bottom, were built at a natural drainage site on the back of the hilly Colchester Farm. The cells are divided by berms protected by large rocks and lined with materials that treat pollutants common in agricultural runoff.
"You can see the ridge line, what drains to this area," Thompson said, noting the site had some erosion around it. "It was just a really good opportunity to provide some additional treatment for any additional runoff that might occur."
The second stop on the tour was the largest and, at $1.2 million, the most expensive of the three projects: a ravine restoration effort on a farm near Swantown Creek.
Heavy equipment and a crew from Aquatic Resource Restoration Co. were at the site April 13, as was Rocky Powell, of Clear Creek Consulting and the project's designer, and Sassafras Riverkeeper Emmett Duke.
"I think it's coming along good," Powell said, surveying the site.
The project comprises 4,100 linear feet of stream restoration coupled with seven new ponds, all addressing five drainage sites on the farm. With ground broken before Christmas on the ponds and stream work started in February, the project is expected to be completed this summer.
Thompson said that with the use of retention ponds, some of the ravines are not expected to take water again, while three of the drainages will start off running down through a pipe to reduce erosion in restored areas.
"We don't like using pipes that much, but in this case, the engineer was like, 'We really need to use a pipe here,'" he said.
Walking through the woods, portions of the ravines were more than 6 feet deep. Cascading treatment systems for runoff were in place, smaller than what was build at Colchester Farm and without the large rocks.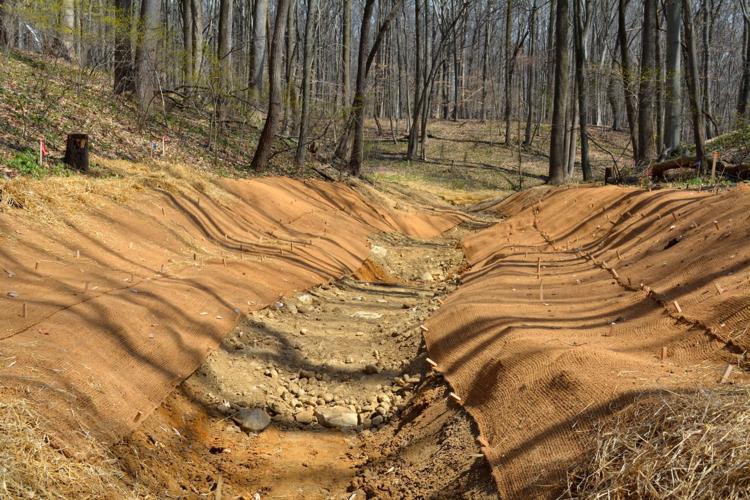 Thompson talked about the underlying structures at those pools and around bends in the streams that will help combat erosion, especially in heavy rain events that would otherwise send water rushing down to Swantown Creek.
Powell said the project's two main stems stand to keep 1,500 to 2,800 tons of sediment a year from reaching Swantown Creek.
The end result helps the local ecosystem in another way, too.
"Creating these riffles and pools gives you a lot more opportunity for natural habitat," Thompson said, standing in woods alive with birds flying about, frogs and snakes swimming in the water and signs of deer passing through the area.
Starkey Farms — owned by Brennan Starkey, ShoreRivers' board chairman — was the final stop on the April 13 tour for a project aimed at easing the burden of a nearly filled-in stormwater retention pond.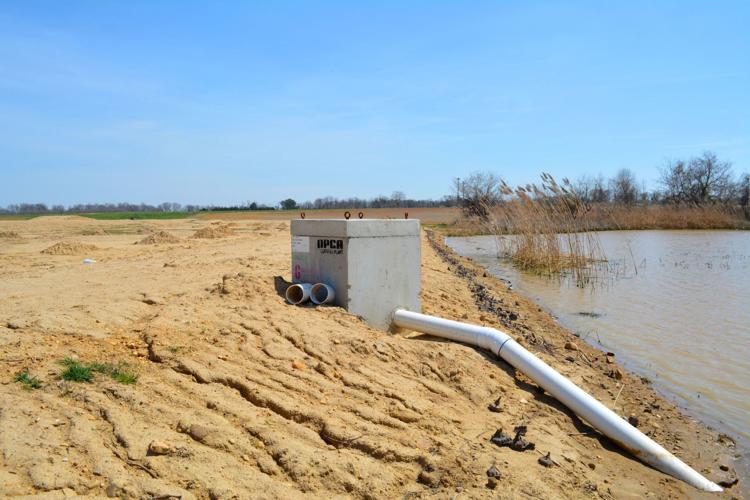 The project includes the addition of a water basin called a sediment forebay at the front, a water skimmer and a cascading wetlands system very similar to Colchester's coming off the back.
With the farm being the largest spinach producer in Maryland, and one of the largest on the East Coast, the $287,00 project seeks to offset nutrient and sediment losses.
Thompson said vegetable producers like Starkey Farms typically employ intense tillage practices.
"It's always been a been vegetable farm," Thompson said. "So historically, this farm has moved a lot of sediment off and it lost of lot of their topsoil."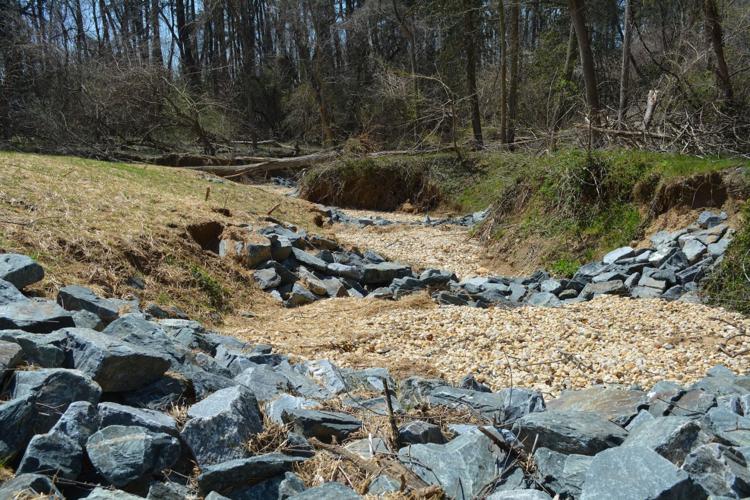 Thompson said the retention pond already on the site has filled in so much that the emergency spillway has been passing almost every storm and erosion is moving into production areas.
He said the Starkey Farms project started in November but shut down for a time due to weather. He said the contractor estimates it should be completed in two or three weeks
"There's not a lot left to do," Thompson said.
With the three projects toured Friday and others like them, Thompson said ShoreRivers is making significant strides in meeting the goals outlined in the Sassafras Watershed Action Plan, as well as meeting pollution diet targets.
He said the organization also is providing habitat for wildlife and protecting what already is there beyond the project sites.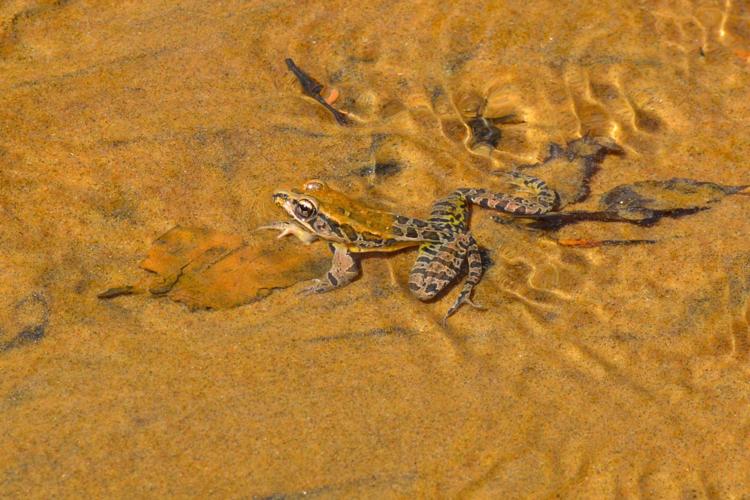 "In almost every scenario, there's a perennial stream below these systems that's getting protected, so we're providing stormwater retention and treatment for nutrients all in the same package," Thompson said.