BALTIMORE COUNTY — Nancy Billy Maher has no formal art training. But sometimes, God closes a door and puts a paintbrush in your hand.
Maher came to the Baltimore area in 1971 teaching fourth grade, and was a stay-at-home mom for 14 years before working part-time for a local preschool program. In the mid-90s, finding herself newly single and with grown kids, Maher was looking to make a little extra cash. So she started painting.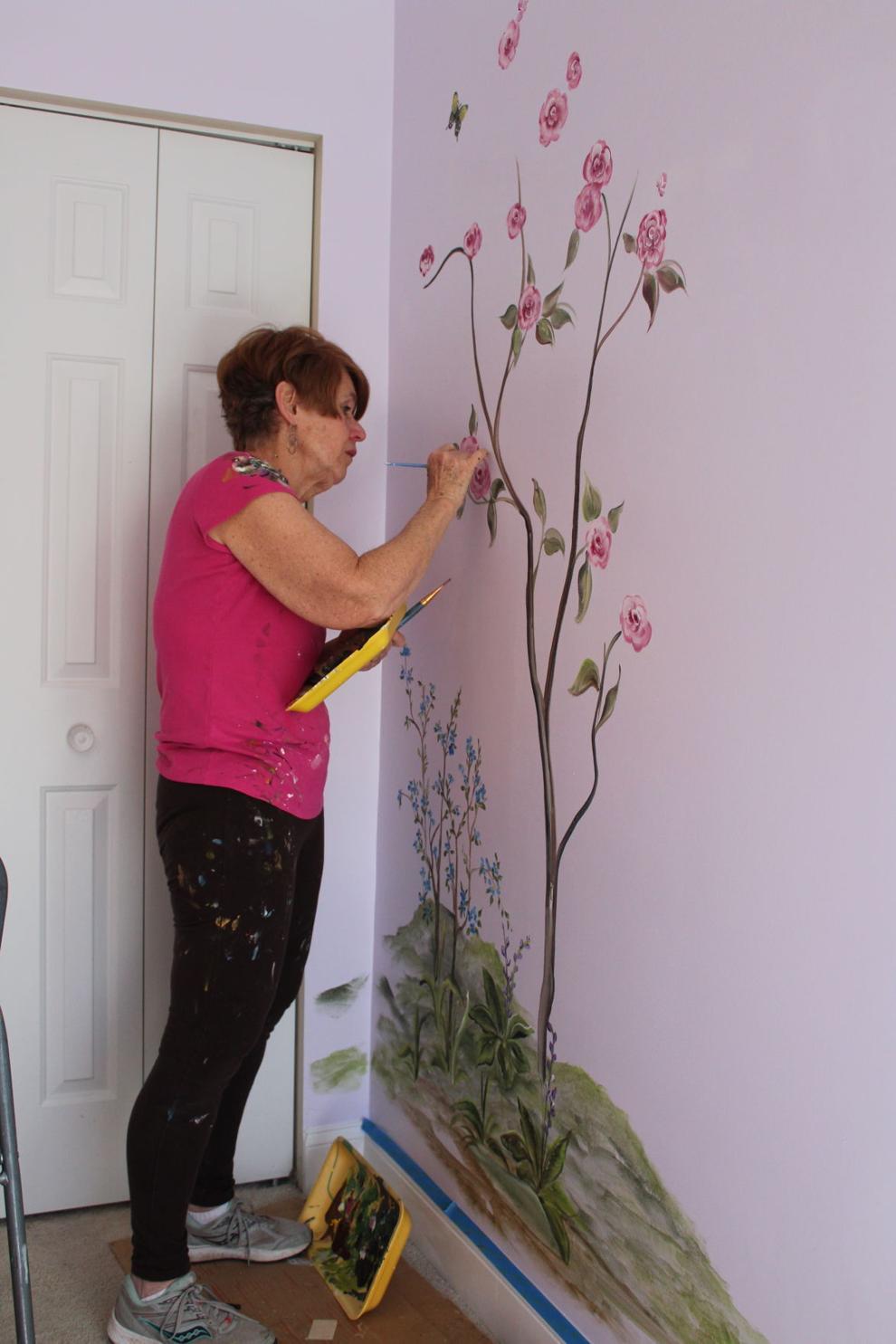 "I painted a birdhouse one of my preschoolers made for me," Maher recalled. "It had a red apple on it, so I painted over the red apple and put some flowers on it and showed my friend and she said, 'I love your style — can you do it bigger?'"
The friend wanted a garden scene on her foyer door, and wouldn't take no for an answer, no matter how much Maher assured her that she was no professional.
"She took the door off its hinges, bungeed it to the roof of my car and said, 'Give it back to me when you're done,'" Maher said. "To look at a picture of it now, I cringe — it's nothing like what I would do today."
Maher had some success in the coming months painting cheap flea market furniture and reselling her products at craft shows, but in the summer of '97 she was commissioned by a neighbor to paint a garden scene in their kitchen.
It was a first taste of what has become her signature — murals covering entire walls, sometimes filling rooms from the floor to the ceiling. And it set Maher on the path to build a career with her eye for perspective, her taste for color and her love of artistic creation.
She kept her job at the preschool for a few years, building up business as she weighed whether or not to go full time.
"I was playing with kids on the floor and making puzzles one day and sitting on the floor and a bathroom painting geraniums underneath the toilet the next," she said. "But after three years, it was time to put all my eggs in one basket."
For 24 years now, Maher has been painting. She uses pretty basic materials — standard interior paints, mixing up her own colors, sometimes throwing in an acrylic for flourish. Nature scenes are her favorite, she said: "I'm a gardener, so I've got flowers in my head."
During her busiest years, she was painting six days a week and scheduling jobs out six weeks ahead of time. Recently, things have slowed down — styles have changed, money is tighter and, of course, the COVID-19 pandemic threw a wrench in the works.
At a home in Bowleys Quarters last month, Maher had a two-part assignment — two bedrooms belonging to two young girls, one done in a jungle theme and one more like a storybook meadow, with pink flowers, brightly colored bushes and bunnies galore. Maher literally took stylistic inspiration from one of the girl's favorite story books.
"Nancy is amazing," said homeowner and mom Ashley Daughtry. "The girls — they are so excited."
But for Maher, what's amazing is how much people trust her to bring their visions to life. She said that she likes a challenge, although has occasionally turned down jobs that might have been a bit beyond her expertise.
"Sometimes things get a little out of my comfort zone, which I'm good with, as long as it's just a little," she said, adding that some folks have a specific vision while others just let her loose, "Which is good for my ego."
For a while, the pandemic got really tough. These days, she might only have one or two jobs some weeks. But just like when God first put the paintbrush in her hand, Maher had a blessing of a project come her way last summer.
Bear Pediatrics was previously in a little two-room office which Maher had decorated — one room as a jungle, one under the sea, with a woodland theme for the waiting area. Then, last year, the clinic expanded to a new location with five rooms, and owner Katie Bittner-Cassett brought Maher back to replicate her previous work and do three entirely new rooms.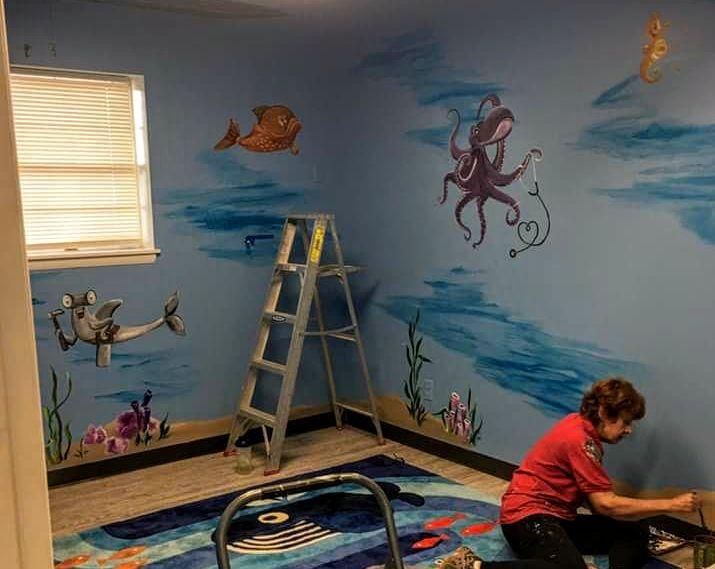 So Maher spent six weeks painting alone in the empty clinic in the middle of the pandemic's worst months. It was a hot summer, but the building was air conditioned, so she wore a sweater and took her lunch outside to warm up.
"I could just let loose," she said. "It was a gift from God."
The new space included a jungle room and under the sea room, as well as three other rooms with woodland, farm and dinosaur themes. She did the sizable waiting area and hallway in an arctic theme. Throughout, she added lots of baby animals and little details to keep patients busy while they wait for their check-ups.
For Bittner-Cassett, Maher's art is a game changer — it helps kids learn to love the doctor.

"They literally just have so much fun that they don't want to leave," Bittner-Cassett said. "They get their shots and they still want to stay, they want to play."
Bittner-Cassett said her personal favorite is the jungle room, but that the most popular room among kids is by far the one with dinosaurs. But it's more than just entertainment —
Bittner-Cassett uses the murals as part of her evaluations, asking kids to identify colors, count up the animals or other little exercises that engage Maher's art.
"Nancy is the warmest, most giving person ever and she deserves all the success that she can come by," said Bittner-Cassett . "I hope she knows how much joy she brings the kids' lives with her paintings."
Maher mostly sticks to jobs nearby, but has travelled further afield to take up work in Delaware and New Jersey. Many jobs, she can knock out in a single day. She has had gigs at some pretty high-profile spots, like the University of Maryland Upper Chesapeake Hospital or Greater Baltimore Medical Center, as well as a number of local restaurants and businesses.
A series of murals at Open Door Cafe in Bel Air was a real milestone, Maher said. Painted in 2006, she had a number of inquires from folks who saw her paintings in the cafe and wanted to learn more. Unfortunately, when the cafe closed in 2014, new management painted over her murals.
"It broke my heart," Maher said.
She joked that her friends always tell her she undervalues herself — she estimates prices based on how long she expects a job to take. But she thinks it helps her stay competitive, to keep her prices cheaper than many other prominent artists in the industry.
"I wanted to be able to be affordable to anybody from a row home in Dundalk to some enormous place in Jarrettsville," Maher said. "I made a commitment that I was going to be reasonable, because otherwise I couldn't live with myself."
Maher gets a lot of business online, using a Facebook page called Nancy's Painted Garden to share her work. Ironically, as her page grew in popularity, with fans from all over the country and even around the world, it became harder to connect with local jobs. Word of mouth, she said, has always been her best advertising.
She has no plans to retire anytime soon — she wants to keep painting as long as she can. Styles have changed — she went from lots of floral borders, to heavy European influence, to today's preferences for a cleaner, simpler aesthetic — but her love of the work has held true.
And for all her humble back and forth about having no formal training, Maher is pretty confident in herself when it comes to wielding a brush. She said that she almost never has to restart — if something starts to go wrong as she paints, she can save it by the time she finishes.
It's the lives she touches — that's what stays with her.
She has done murals in memory of loved ones who have passed and nurseries for newborns. She once created a view of Patterson Park in the downstairs bedroom of a terminally ill woman who had grown up playing beneath the blossoms around the pagoda.
"I've had so many amazing experiences," she said. "And I've enjoyed them all — I really have."