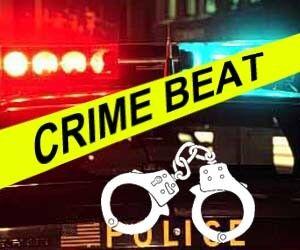 ELKTON — A couple is facing numerous drug charges after investigators confiscated more than one pound of suspect heron mixed with fentanyl — parceled into 1,334 baggies — from inside an Elkton-area mobile home, according to Cecil County District Court records.
Investigators identified the suspects as Rodney Austin Messick, 45, and his girlfriend, Ashley Marie Hammons, 31, who live together at a residence in the unit block of Pinder Avenue in the Whispering Pines Mobile Home Park off Old Philadelphia Road (Route 7), west of Elkton.
The investigation leading to their arrests started at approximately 11 a.m. on Wednesday, when Cecil County Sheriff's Office Sr. Deputy Joseph McCabe and Dfc. Brian Bravo spotted Messick standing in front of his residence while patrolling the mobile home park, police reported.
A computer check on Messick, whom the deputies positively identified, revealed that he was wanted on a bench warrant for allegedly failing to appear for a courtroom hearing on Aug. 18, some eight days earlier, police said.
After Messick noticed the patrolling deputies, police added, he ran from the front lawn into his residence, prompting McCabe to follow him.
"Sr. Deputy McCabe knocked on the front door of the residence, announcing his presence and commanding Messick to come outside. Sr. Deputy McCabe heard a 'click' sound come from the locking mechanism on the door . . . Sr. Deputy McCabe then attempted to open the door by turning the knob, but it had been locked. At this time, Sr. Deputy McCabe utilized his right foot to kick the door down, making entry into the residence," charging documents outline.
Once inside, McCabe and other deputies detained Messick and Hammons in the living room, along with two other women, ages 66 and 32, both of whom were not charged after the investigation, court records show.
While in the living room, the deputies noticed a clear plastic bag holding "a large quantity of blue in color wax paper bags" that contained suspect heroin mixed with fentanyl, police said, adding that the alleged contraband was "in plain view."
McCabe then left the scene and obtained a search warrant, based on what had been seen by the deputies, and that led to a court-approved search of the residence at approximately 3:15 p.m. Wednesday, according to court records. Cecil County Drug Task Force agents assisted McCabe and Bravo during the search, court records show.
Investigators found a total of 90 "bundles" at various locations inside the mobile home, including the couple's bedroom, their bathroom and the kitchen, and each held numerous packets of suspect heroin/fentanyl, court records allege.
Inside the bathroom air register, for example, searchers found 35 bundles holding 524 baggies of suspect heroin/fentanyl bearing a "Sin City" street brand stamp, police said. In that same spot, police added, investigators also found 30 additional bundles containing 424 packets of suspect heroin/fentanyl, each marked with a "Target" street brand name stamp.
In addition, court records allege that investigators confiscated 95 baggies of suspect heroin/fentanyl parceled into six bundles, with those packets bearing a "Flintstones" street brand stamp, and 176 more "Target" baggies packaged in 12 bundles – all of which were found in the couple's bedroom.
The suspect heroin/fentanyl found in those 1,334 baggies had a combined weight of 513 grams, which translates to approximately one pound, two ounces, court records allege. There are about 453 grams in one pound.
Investigators also seized five grams of suspect methamphetamine and a digital scale containing "trace amounts" of suspect meth, court records allege.
Messick and Hammons are each facing nine charges, including possession of a large amount of heroin mixed with fentanyl and possession of heroin/fentanyl with intent to distribute, according to court records, which show that Messick and Hammons are scheduled for preliminary hearings on Sept. 23 and Sept. 21 respectively.
After his bail review hearing on Thursday, Messick remains in the Cecil County Detention Center without bond, court records show. Hammons is free after posting a $35,000 bond, according to court records.