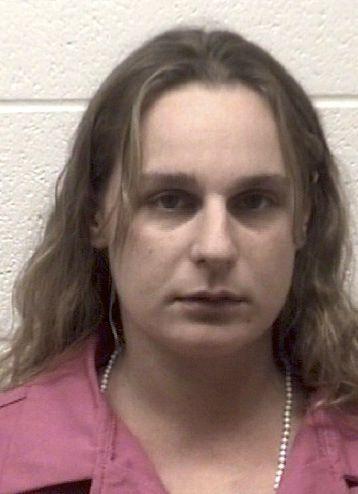 ELKTON — A woman received a 15-year prison term on Wednesday for puncturing four Cecil County Sheriff's Office deputies with a hypodermic needle during a struggle inside an agency holding cell in April 2019 — sending all of them to the hospital.
Cecil County Circuit Court Administrative Judge Keith A. Baynes imposed a 15-year sentence on the defendant, Alaina Jean Marie Robbins, 31, and three mirroring sentences, running them concurrently, for four first-degree assault convictions.
A jury convicted Robbins of those assault charges and 19 related offenses in January, after deliberating approximately 30 minutes at the conclusion of a two-day trial.
Some of Robbins' convictions are connected to her pointing a shotgun at motorists on a busy Elkton-area road and brandishing a knife when law enforcement officers tried to arrest her. That incident put Robbins in police custody and led to her stripping naked, arming herself with a needle that she had hidden on her person and thrashing in the holding cell at CCSO's headquarters later on April 16, 2019.
(During Wednesday's hearing, the judge also imposed three concurrent 10-year sentences on Robbins for related second-degree assault convictions. Robbins' remaining lesser-charge convictions merged.)
Robbins will serve her 15-year term in a Maryland Department of Corrections prison.
Undisputed trial testimony indicated that Robbins repeatedly announced that she had HIV and Hepatitis C "while swinging the syringe and stabbing (the four deputies) with it."
Before imposing the sentences, the judge alluded to Robbins' repeated statement during the incident in which she stabbed the deputies with the needle.
"You caused anguish, fear and concern," Baynes said, explaining that the deputies who had been punctured by Robbins' needle worried, along with their family members, if they would be infected.
Because first-degree assault is classified as a violent crime, Robbins, under Maryland law, must serve half of her 15-year sentence before she would be eligible for her first parole hearing. The judge gave Robbins credit for the 499 days that she had served in jail after her April 16, 2019 arrest.
Baynes did not order Robbins to serve probation after she is released from prison, noting that Robbins has a criminal record and that she did not do well during her past probations.
Cecil County State's Attorney James Dellmyer sought 25 years of active incarceration for Robbins, citing the "egregious nature of the crime." Dellmyer specifically recommended a 25-year sentence and a suspended, consecutive 25-year sentence.
State sentencing guidelines, which are based on a defendant's criminal record and other factors, set a penalty range of 12 to 20 years of active incarceration for Robbins for each first-degree assault conviction, Dellmyer said in court. Counting all of her convictions, the guidelines set a penalty range of 12 to 195 years of active incarceration, he added.
Robbins' lawyer, Ellis Rollins III, argued that Robbins would best benefit from substance abuse and mental health counseling and treatment, not incarceration, while making his sentence recommendation.
Making her allocution moments before sentencing, Robbins told the judge, "I take full responsibility for the road I have allowed myself to go down."
Robbins then told Baynes that she spirals into a "state of panic" whenever she is restrained, after maintaining, "I've been traumatized, broken and abused my whole life. It is impossible for me to trust anyone."
Trial recap
At trial, Rollins presented a "mistake of fact" defense in which they maintained that Robbins — identified as a rape victim in a 2017 incident — believed that she was fighting for her life while interacting with those deputies because she was having a flashback relating to that sexual assault.
Robbins did not believe that the deputies were law enforcement officers; but, instead, she perceived them as civilian men who were going to take her hostage and rape her, according to Rollins' trial arguments.
Dellmyer had countered that Robbins' actions were incongruent with someone who purportedly was concerned about an imminent rape, noting, for example, that Robbins — on her own volition — took off all her clothes in the holding cell.
"She's worried that she was going to be raped, but . . . she strips naked in the cell?" Dellmyer reviewed during his closing argument in January.
He also emphasized that the deputies were in uniform; that they showed Robbins their badges every time she asked to see them and that the deputies drove, exited and entered marked CCSO patrol cars — a dozen of them were at the first scene at one point, with flashing emergency lights and blaring sirens.
The deputies also tried to calm down Robbins on a few occasions at CCSO's headquarters and offered to take her to the hospital.
Dellmyer also asserted at trial that Robbins' "prior victim" status could not be used to "justify her actions years later."
He maintained that Robbins' criminal actions on April 16, 2019 could be linked, instead, to her "anger" and the fact that she was "under the influence of" heroin, to which Robbins had testified.
Trial testimony showed that deputies placed Robbins into the holding cell, after her arrest, and relied on a surveillance camera to monitor Robbins remotely — while waiting for a female deputy to arrive and conduct a strip-search on her.
When Robbins' actions inside that holding cell raised concerns about her possibly doing harm to herself, however, deputies entered the holding cell with the intention of transporting Robbins to a hospital, according to trial testimony.
The initial incident
The incident leading to Robbins' arrest occurred at about 3 p.m. April 16, 2019 in the 2900 block of Old Elk Neck Road — the same block on which she lives, according to court records.
While walking along that road, Robbins was holding a long gun, which she waved and pointed at vehicles — halting traffic in both directions, prosecutors reported.
Robbins testified that she had found the long gun lying on a couch inside her residence. Believing that someone was trying to shoot her, Robbins grabbed the gun, cleared it of ammunition to be safe, walked out of her residence and then headed down Old Elk Neck Road while holding the weapon, according to her testimony.
Two Cecil County Public Schools buses, carrying secondary school students, were among the vehicles affected by Robbins, armed with a shotgun, in the road, prosecutors said. Robbins did not point the shotgun at the buses, prosecutors added.
Two off-duty CCSO deputies, who had been traveling together in the same patrol vehicle, happened upon the scene and found themselves in the traffic backup, according to court records, which indicate that they jumped into action, identified themselves as police officers, drew their weapons and ordered Robbins to drop her weapon — but she did not comply.
As the deputies continued walking toward Robbins, with their guns still drawn, she got on her knees and then dropped the shotgun, prosecutors said. However, prosecutors added, Robbins then grabbed a folding knife in the open position.
After the deputies gave several orders for Robbins to drop the knife, she obeyed, according to police officials, who further reported that Robbins struggled with the deputies as they arrested her.
The deputies confiscated the knife and shotgun, which was unloaded, and they determined that Robbins had pointed the gun at several motorists, court records show.
Later that afternoon, while deputies were booking Robbins at CCSO headquarters, she remained combative as they placed her in a holding cell — where she then took off her clothes and removed a hypodermic needle that she had hidden, according to court records.
A struggle followed, as deputies tried to take the needle away from Robbins for her protection, as well as for their safety, and to calm her down, court records show. That's when Robbins punctured the four deputies with the needle.
After subduing Robbins, the deputies went to Union Hospital in Elkton — and so did Robbins, police reported.