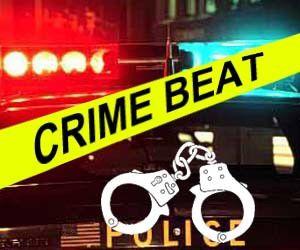 CECILTON — An estranged husband is facing several charges after he allegedly pointed a loaded shotgun at his wife inside a Cecilton residence — a scene that continued until a nearby man heard the woman's screams, grabbed a machete and wrested the firearm from the suspect, who then fled, according to Cecil County District Court records.
Investigators identified the suspect as David Michael Sadler, 63, of the unit block of South Forest Road near Elkton.
Court records allege that Sadler came to his estranged wife's residence in the 200 block of West Main Street in Cecilton at approximately 6:30 p.m. on Saturday — in violation of a court-issued protective order against him — and pointed a shotgun at her in the kitchen after entering the home.
The woman later told Maryland State Police investigators that she grabbed the shotgun barrel and tried to point the weapon away from her, prompting Sadler to allegedly pull her by the hair, police said. The woman's friend, Allen Lee Crosby, 67, heard the woman's screams and intervened, police added.
"Crosby stated he was outside when he saw David Sadler pull into the driveway, get out of his vehicle with a shotgun and go into the residence. Crosby then stated he heard (the woman) screaming, 'Call the cops, he's going to kill me!'," according to charging documents.
Crosby ran into the house holding a machete, before forcing Sadler from the inside of the dwelling to the outside of it while wresting the shotgun away from him, police said. At that point, police added, Sadler drove away from the residence.
The woman called 911 while Crosby was struggling with Sadler to take control of the shotgun, according to a written summary of the Cecilton incident, which MSP officials included in press release concerning statewide criminal and traffic cases that troopers had handled over the weekend. The agency issued that crime-and-traffic roundup press release on Monday.
MSP Tfc. Kyle Morrison responded to that 911 call at 6:33 p.m., police said.
But Morrison deferred to other troopers heading to the scene when he spotted a green Ford Focus that matched the description of the suspect vehicle — including the license plate — as it headed northbound on Augustine Herman Highway (Route 213), after coming off the Chesapeake City Bridge, police added.
Morrison turned his southbound patrol car around, at that point, and stopped the suspect vehicle after it had made a left turn onto nearby Spears Hill Road, according to police. Morrison then arrested Sadler — the driver and sole occupant of the vehicle — without incident, police reported.
During a pat-down search of Sadler, the trooper found a box containing two rounds of 00 buckshot in the suspect's front left pants pocket, police said.
Morrison also confiscated a tannish-brown bandolier containing 16 rounds of shotgun ammunition, after noticing it "in plain view" on a rear passenger seat, where he seized one loose round of 00 buckshot, too, police added. A bandolier is a shoulder belt made up of loops or pockets in which shotgun shells or bullets can be stored.
Meanwhile, back at the Cecilton residence, MSP investigators took custody of the shotgun that Sadler allegedly had used to threaten his estranged wife — and they found one round of 00 buckshot in the chamber and two additional rounds in the magazine tube, court records allege.
MSP investigators later confirmed that, since March 22, there has been an active Cecil County District Court protective order against Sadler, one designed to protect the alleged victim in Saturday's incident against him, police reported.
"This order prohibits David Sadler from owning or possessing any firearms or ammunition," according to charging documents.
Sadler is charged with first-degree assault — a felony that is punishable by up to 25 years in prison if convicted — and six related misdemeanors, including use of a firearm in the commission of a felony or a crime of violence, reckless endangerment, violation of a protective order and possession of a firearm by a disqualified person, court records show.
Scheduled for a June 11 preliminary proceeding, Sadler remained in the Cecil County Detention Center on no bond Tuesday, one day after his bail review hearing, according to court records.