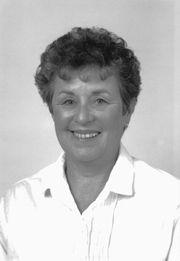 ELKTON — In the Maryland General Assembly, she was something. But at State Line Liquors, Ethel Murray was the boss.
"She was a great mother, a great business woman; I don't know how she balanced it all," said her son, Robert Murray. "She was a force. She has an impact on so many people."
On July 14, former Maryland District 35B Del. Ethel A. Murray died in Florida. She was surrounded by friends and family and passed peacefully. Murray was 87.
Murray served in the House of Delegates as a District 35B representative from 1983 through the early-90s when she was defeated by David Rudolph in the 1994 election.
In her 12 years as a legislator, the mother of six also provided for her constituents in Cecil County.
"She did so much," said Judy Cox, former mayor of Rising Sun and public relations person for Murray during her time in office. "Her goal was to help the less fortunate in every way that she possible could."
It is believed that Murray was the first woman delegate from Cecil County — though there were several representatives and local women leaders in the county and throughout the state.
Robert, reflecting on her first primary election in the 1980s, remembers driving around with his mother visiting residents in the county on her campaign trail. In 1983, she was one of 13 candidates.
"Here's this woman, the only woman on the ticket.... it was close. You spread out 13 people and one of them is a woman. In this county, back then, it was very conservative," he remembers, adding that people were iffy about electing a woman into the delegation.
"She won by 13 votes," he said.
He attributed his mother's win, not only to her hard work but also her "great rapport" with people.
***
Murray, truly a representative for Cecil County in the House of Delegates, showed up for public safety continuously throughout her career. Cox remembers her pushing for the relocation of the Rising Sun firehouse, the country music festival at Fair Hill — and a plethora of other things.
In supporting the region, Murray was instrumental in bringing Medevac to the Eastern Shore, and was also the first to award the Length of Service Award. This program provides benefits for retired volunteer firefighters or emergency service personnel.
From the archives of the Cecil Whig, Murray can be supporting several bills that pushed for the betterment of the community.
In 1992, there was a lot of debate about holding off on adding Keno machines to the state's lottery offerings. Then Gov. William Donald Schaefer prevailed and Keno has remained a part of Maryland ever since.
[ Schaefer] claims keno is necessary to balance the state's fiscal 1992–93 budget. But members of the General Assembly — the body which may soon decide to game's fate — don't seem to agree.
If the Cecil County delegation's mood is any indication, Maryland keno face is a dubious future indeed.
"I can understand the governor's point of view," said Del. Ethel A Murray (D-Cecil). "But I wonder whether or not a budget should be balanced by a lottery game. I think we should look at something else. "
Both Murray and Franks see keno as a completely fiscal issue. Although they don't support it, they don't believe the game is morally wrong.
Nearly 25 years ago, the Ku Klux Klan was pushing to march down the streets of Elkton. In a way to tamper the hate group's movement in Cecil County, the local delegation proposed an anti-mask law to counter the movements of the hate group within the county:
Maryland may soon prohibit people from hiding behind a mask or hoods in public places.
Under legislation introduced by Delegate Ethel A. Murray (D-Cecil) and several members of the Baltimore City Delegation, the person would be committing a crime by "wearing a mask, hood, or device … To conceal his or her identity. "
…
"I know there are some constitutional questions with this kind of bill," Murray said. "But I definitely think it's worth serious discussion. We may end up with a different bill in the end. We must start somewhere.
"I don't want to curtail anyone's free-speech rights," she added. "But, personally, I don't think this bill does that. You should have the freedom to say what you want. But you should have the courage to reveal your identity."
Several months after the introduction of the mask law, Murray was wrapped up in an expensive traders fee legislation conundrum when a letter from former Commissioner A. Marie Cleek to Murray came to light. The letter stated Cleek "had no problem" with the "last year with a larger than expected traders license fee increase," the Whig reported in 1993.
Changes were meant to be made that would lower the level of the fees, but that didn't seem to make it into the final drafts of the legislation.
"I don't think you can really put any blame on anyone for this," Murray said. "We all thought the fees were too high. This thing just slipped through the cracks. It was introduced late in the session. And the General Assembly was very busy in 1992 taking care of budget problems."
***
According to former aides and employees, Murray did all her own legislative research — and all before the office opened.
Though she may have "worked more than she really needed to", Cox opined. Murray wouldn't have been herself if she didn't.
"She got up before anybody else, before day light," Cox remembers." . … She didn't quit working. Even when she wasn't in the legislative session, she was busy doing [work for the delegation].
"She wrote almost all her own letters, and did all her own work," Cox said, adding that legislative aides take on the brunt of this type of work.
Though her hours were mostly filled in her research, Murray is remembered for always having time for her constituency.
"I don't ever remember her turning down a phone call or a visitor," Cox said.
Cox went on to say that current candidates for county government are reflective of Murray's spirit.
"Danielle Hornberger reminds me much of her," Cox said. "They're interested in what's best for the people, not what's popular but what's best."
Murray sought out the "happy medium," Cox said.
"You can't always do what you want to do, you have to do what's best for everybody — and that's the way she was," Cox said. "I am going to miss her."
In addition to being a pillar in state government, Murray was well known throughout the community as the owner of State Line Liquors — which is still family-owned and operated.
Murray attended school at St. Rose's RCS, Xavier's School, and Catherine McAuley High School. She married John "Jack" W. Murray, Jr. and moved to Elkton to begin their lives together. They were married for 55 years.
While in Maryland, Ethel worked as a secretary for Getty Oil in Delaware City and at Jack's family's liquor/grocery store, E. May Murray's on Bridge Street. Jack and Ethel eventually purchased the store and moved their business out of town, known today as State Line Liquors, where she is often referred to as "the boss."
Robert Murray, who still lives in the area, remembers his mom this way:
"She was a good, compassionate woman," he said. "She would sit there and talk to people, and she was known for that. She wasn't a politician, she was a representative. She always hated that word ['politician'], but she understood the game.
"She worked hard for people."
And, from memory of former employees, she could be hard on people — though many will call her the best boss they've had.
Robert recently bumped into a former employee of State Line, who called her the "toughest boss" he ever had. This isn't the first time State Line workers have said this to Robert.
"They all come back and say, 'Thank God for Ethel Murray,'" Robert told the Whig. "Even though she was hard and tough on them, they say that they all became better people because of her — and that's just an incredible compliment."