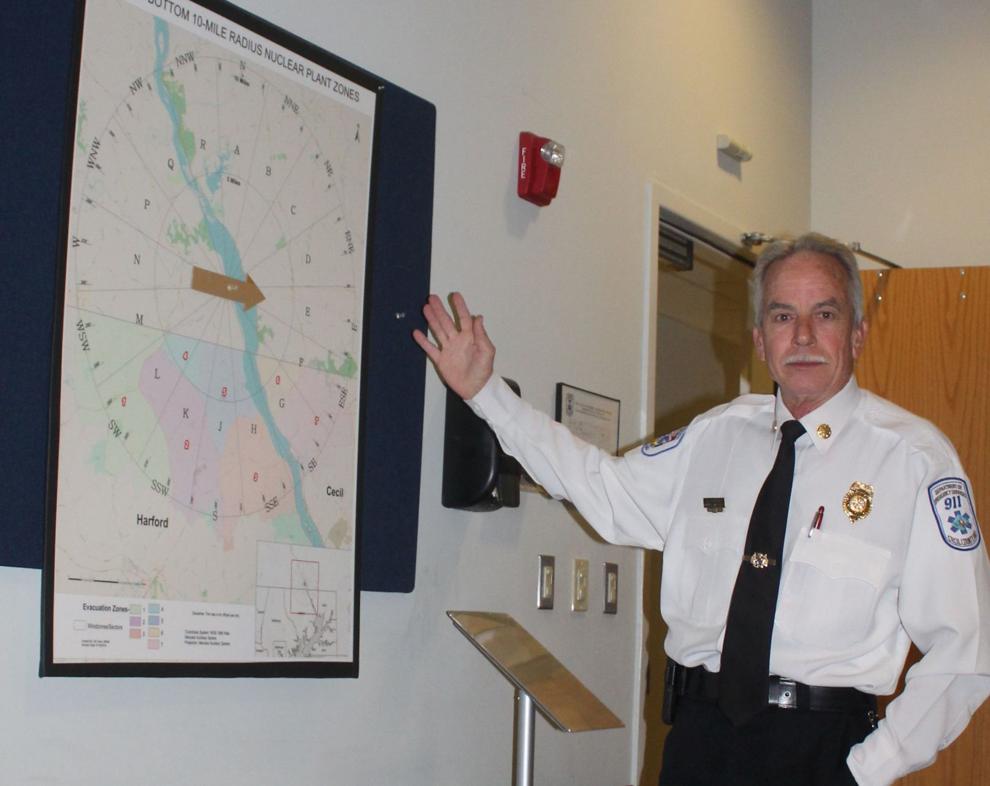 ELKTON — With the potential for bad weather this weekend, the Cecil County Department of Emergency Services is urging residents to take steps now to protect yourself and your family.
Since the start of 2022, there have already been several incidents of winter weather creating turmoil including a wreck on Interstate 95 in Virginia that trapped hundreds in their vehicles for a day and a half. Days later there was a four-foot snowfall in Pakistan that killed more than 80 people who became trapped on narrow roads.
John Donohue, deputy director of Cecil County Department of Emergency Services, used that as an opportunity to urge people to prepare for the same thing to happen to them.
"You need to take responsibility for yourself and your family," Donohue said. "In your car have non perishable snacks, water, blankets, a flashlight and jumper cables."
Like the warnings issued by utilities, Donohue said people should also have enough water (3 gallons per person, per day) and ready-to-eat food at home in case a snow storm takes out electricity. Those preparedness plans should also include any special needs such as infant supplies, medications and pet supplies plus a flashlight, battery powered radio and extra batteries.
Ashleigh Bothwell, acting deputy emergency manager, said this level of preparedness may be out of reach for some.
"People with financial difficulties aren't always able to have three days of extra food," Bothwell said. So check on your neighbors, she noted.
With the preponderance of smart phones and other technology Donohue said people should already be weather aware.
"We get the alerts and see the same weather like everyone else," he said, listing a variety of weather apps including the National Weather Service.
"If it looks like a semi-significant weather event we will get an alert from the Maryland Department of Emergency Management," he said. For more severe weather possibilities — such as the blizzard in 2016 — CCDES will attend statewide call-ins with other agencies to coordinate.
"We'll talk about what to expect, best- and worst-case scenarios,"" Donohue said. "We'll post that information to Facebook and Twitter and send alerts to county departments."
Cecil County has a CodeRed alert system that sends texts messages to targeted areas most affected by whatever is going on.
"But it's rarely used for weather," Donohue said. Most recently, CodeRed was used when law enforcement was looking for two armed men that bailed out of a stolen car in the Rising Sun area. Messages telling those closest to the search area to shelter in place were sent via CodeRed.
"We like to get people's attention so when you get a text from us it's urgent," Donohue said. Other potential uses for CodeRed would be a serious issue at the Conowingo Dam or Peach Bottom Atomic Power Station, a train wreck or a chemical leak.
"We use a geo-fencing map to locate a certain area and call them," he said. However, he added, for an instance such as this the technology calls every phone without any sign up or membership required.
Along with the snow dangers, Donohue is equally worried about what people will do to stay comfortable when the power goes out.
"One thing that really concerns me is the use of candles and generators," he said. "People tend to run generators in the wrong area."
Generators are the major cause of carbon monoxide poisoning and it happens when the exhaust of these petroleum fuel systems cannot escape the house. The incorrect use of space heaters can cause fires.
To learn more about preparing for storms or disaster go to ready.gov