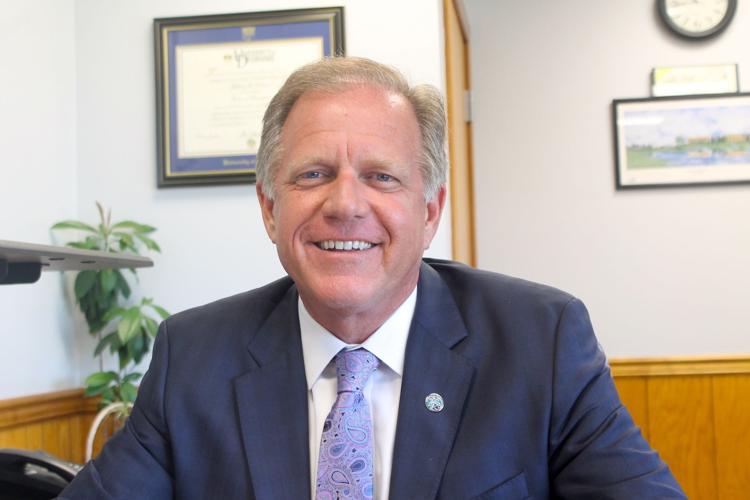 ELKTON — Governor Larry Hogan gave Maryland schools the green light to safely reopen last week, citing improved COVID-19 health metrics across the state. Cecil County Public Schools (CCPS) Superintendent Dr. Jeff Lawson, who listened to the governor's press conference while pulling weeds in his yard, heard nothing that would disrupt the county's reopening plan.
"Honestly, I think we got this right," Lawson said. "What the families are seeing is a much better product than what they saw in March, April and May."
Reopening strategy
While some districts will proceed with all-virtual instruction for at least the first few weeks of school, CCPS will get some students back in the classroom as early as next week. The current plan calls for five to seven percent of students to resume in-person instruction on Sept. 8. This will consist of the students most in need of face-to-face learning.
In bringing students back into schools, CCPS must also prepare for the worst — an outbreak. Lawson said they would be quick to close classrooms or schools that saw COVID cases spike.
"We're not going to have a whole lot of patience for our students and staff getting sick," he said. "Now, if we get a single case that arises in an elementary school, it does not mean CCPS is closing. We will try to deal with it in pockets as whatever potentially positive cases emerge."
The number of students returning for face-to-face learning may rise to 25 or even 50 percent at the end of the month, according to Lawson, if the county's COVID transmission rate stays low. He acknowledged that many families are eager for their students to return.
"We're going to do everything we can to accommodate that, but there is still a segment out there that wants their children home. They're afraid of what might happen to them if they come back out," he said. "We're trying to strike that balance."
Resources for families
CCPS rolled out a Virtual Learning Playbook in August, which families can consult with questions about school policies, learning access and available resources. Lawson stressed that teachers were crucial in developing the playbook.
"The teachers were in the middle of that from start to finish," he said. "I don't know if I've heard from a single teacher who has said this simply isn't doable."
Many families struggle with virtual learning.
For parents who work during the day, the playbook includes a list of local organizations that can provide daycare and technological support. To accommodate at-home learning for families without reliable equipment or internet access, CCPS has provided students with over 8,000 Chromebooks and is setting up hotspots in campus parking lots.
Another big change from the spring, Lawson said, is that live lessons are now recorded and can be accessed by students and family members at their convenience. Using the Blackboard Collaborate platform, teachers will also be on hand to answer questions even when students have individual assignments.
These efforts will help CCPS average 3.5 hours of live instruction per day, according to Lawson. On Tuesday, Maryland's state school board adopted a measure requiring schools to offer at least 3.5 hours per day of live instruction by the end of the year. For Lawson, the decision shows that CCPS is on track for the school year.
'We are a public service'
CCPS has worked with the county to provide opportunities for students that go beyond the classroom.
Through an arrangement with the Department of Parks and Recreation, CCPS high schoolers can register for teams which will practice and play scrimmages in football, soccer, volleyball and other sports. Lawson hopes that state-wide competitive seasons will resume in 2021.
"We're excited. There's a lot of interest. Our kids have been conditioning since June 29," he said. "Knock on wood — no problems. No positive tests. We've done every safety protocol known to man."
Students will also be able to access Cecil County Public Library resources, including learning games, test preparation materials and homework help, with their school I.D.s, according to an email from CCPL Community Relations Manager Frazier Walker.
Lawson said the schools must do everything they can to make sure students don't fall behind in learning during the pandemic. He doesn't want to see an entire generation set back in reading by an entire year.
This worry motivates Lawson to find solutions that will get students back in the classroom safely as soon as possible.
"We've got eight year olds in this community who come from homes where education might not be as valued as it is in a school," he said. "Their only hope is school. That's the only place they'll go during the day where reading is really an important thing."
A mother recently sent Lawson a video of her son, a CCPS student with special needs, struggling to stay focused during a remote learning lesson.
"What it shows me is that there is such a profound need for face-to-face instruction for thousands of our kids — thousands, not a handful," he said. "Public education — we are like the police and the fire. We serve. It's what we do. We serve during good times and we serve during bad times. That's where my heart is."