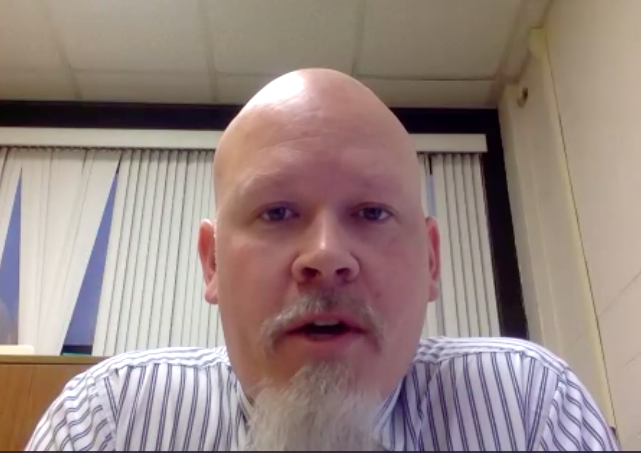 ELKTON — The Cecil County Council spent an hour Tuesday getting to know the five appointees to the Cecil County Ethics Commission after originally voting to reject them in January. The appointees are up for consideration at the council's February 16 meeting.
In introducing the five appointees, County Administrator Dan Schneckenburger noted that pursuant to the county charter, the five members had been appointed to staggered terms. Appointee Janet Pope's term would end in Oct. 2021, Andrew Goins' term would end Aug. 2022, Joseph Graf's term in Dec. 2023, Charles Kelso's term in March 2024 and Heather O'Rourke's term in July 2024.
O'Rourke, a registered Democrat who serves as logistics manager at NorthBay, was the first to speak to the council members. O'Rourke said she initially heard about the opening on the ethics commission through County Executive Danielle Hornberger's Facebook page, which prompted O'Rourke to reach out to Hornberger about the position.
O'Rourke said she had been looking for an opportunity to serve the community and felt the position was a good fit for her background, due to her work as a social worker.
"The profession (social work) is really built on ethics, not only do we have a national code, but we also have to follow state codes, the state code of ethics as well, so I thought it was a good fit for what I do and serving the community," O'Rourke said.
In response to two question from Council President Bob Meffley (R-District 1), O'Rourke responded that she has never served on an ethics board before and that she would uphold the county's charter, even if she disagreed with some provisions of the charter.
Council Member Al Miller (R-District 3) later asked O'Rourke a question he would ask each of the appointees, specifically whether O'Rourke was concerned that as a new member, with four other new members, that it would be hard to move forward in the position?
Schneckenburger challenged Miller's question saying that it did not correspond to O'Rourke's qualifications to serve on the ethics board, but Meffley allowed the question.
O'Rourke responded that she definitely couldn't compete with the experience level of the prior commission members, but noted that appointees had to start somewhere and that her experience falls in line with the job requirements.
Later, O'Rourke said that as one of two Democrats appointed to the committee she was sure she would represent a "different side" of issues.
Council Member George Patchell (R-District 4) then asked O'Rourke if she would be able to provide an unbiased ethics opinion despite any possible political pressure and how she would handle stressful situations.
O'Rourke stated that based upon her professional experiences she has had to take a stand on positions that were different from the majority's opinion and that she is not someone who backs down from her stance on issues.
Goins, who was second to appear before the council, said that as a pastor, father and husband, he has extensive experience serving Cecil County in a variety of positions. He specifically referenced his work as chaplain of the Rising Sun Police Department and his work serving with the Fellowship of Christian Athletes in a variety of functions. He has also served in various capacities with North East Middle School and Rising Sun Elementary School, he stated.
Goins, a registered Republican, is an ordained minister and associate pastor at Pleasant View Baptist Church.
In response to Patchell's question regarding providing an unbiased opinion free from politics, Goins pointed to his time serving as pastor in Ohio, noting that he worked with a variety of different people from different backgrounds and political persuasions and that he worked hand in hand with those people for the betterment of his church and community.
In response to a question from Council Member Bill Coutz (R-District 2) regarding Goins' perceived role on the board, Goins said he saw himself simply as a member of the board faithfully executing the ethics laws.
"I don't have any major ambition to become any standalone individual at all, but I think that just providing my base of knowledge and years of experience," Goins said.
Coutz then asked Goins about comments Goins had made during prior council work sessions and on social media. Previously, Goins had voiced concerns about the council rejecting appointees without giving the appointees an opportunity to be heard or interviewed in the matter. Goins said he stood by his previous statements.
Meffley then asked Goins to define his understanding of the term ethics, to which Goins referenced the concept that discipline is doing what is right when no one is around to see you. Goins said he believed ethics closely mirrors that definition.
In response to Meffley's question regarding following the charter, Goins said he has no problem applying the charter even if he disagrees with certain aspects. He said if there was something extremely unethical within the charter itself he believed the commission should seek legal advice regarding the matter.
Pope, a registered Democrat, was the next candidate to be interviewed. She is a senior recruiter at United States Commercial Real Estate Services.
Pope told the council members that she has over 30 years of experience in human resources including a significant amount of training regarding ethics.
In response to Miller's question regarding the challenge of having five new members on the commission. Pope responded that the whole process had been "far more concerning than anticipated."
She noted that a brand new commission could be at a disadvantage, but added that she believed there were resources available to the county to support and help the new committee.
In response to Patchell's question regarding being influenced by politics in making a decision, Pope noted that ethics is about principles and she wasn't sure how it could be influenced by politics.
In response to Meffley's question regarding following the charter, Pope noted that the rules are the rules and should be upheld whether you like them or not.
The next appointee to be interviewed was Kelso, a Republican who has an extensive law enforcement background, having served 20 years with the Maryland Natural Resources Police.
In response to Patchell's question regarding providing an unbiased opinion, Kelso said in his time serving as a police office he dealt with many stressful situations in which he always tried to provide a response that was appropriate to the situation.
In response to a question by Council Vice-President Jackie Gregory (R-District 5) regarding his background, Kelso referenced his lengthy career in law enforcement, noting the majority of that time was sent in Cecil County. He said a friend of his actually called him up to nominate him to the commission and that he initially did not have any ambition to be a commission member. After reading about the opportunity, he decided to submit his name and resume to Hornberger for consideration, he said.
In response to Miller's question regarding being concerned about an entirely new commission, Kelso, who had been listening to the interviews of the other nominees, said that after hearing from them he was less concerned. He added that he though everyone was going into the situation with the right frame of mind to do the job.
Later, Coutz asked Kelso what he thought the greatest challenge would be in the new position, to which Kelso replied that he felt the greatest challenge would be simply learning something new.
Meffley also asked Kelso the same question he asked other candidates, namely how Kelso would apply the charter even if he disagreed with portions of the document. Kelso noted that as a law enforcement officer he regularly enforced laws he had issues with and that he would do the same thing on the ethics commission.
Graf, a registered Republican who currently serves as assistant principal with Kent County Middle School, said in response to Miller's question regarding a new commission that anything new is going to be a challenge and that while there will be a learning curve, it will be the responsibility of the group to become familiar with how things need to be done.
In response to Patchell's question regarding making ethical decisions, Graf said decisions shouldn't be made on politics.
"It should be made (by) what is best and in following the rules," he said.
During his interview, Graf referenced his experience in education and how many of the skills he has gained as an educator directly correspond with what his anticipated duties would be as a member of the ethics commission.