'Meant to have a big impact on this world': the Blount Family remembers son's brightness throughout battle with cancer
ELKTON — Gavin Blount, a kid described as funny and smart with an unparalleled love for Spider-Man and vanilla milkshakes, was born May 26, 2016. Gavin spent his early years playing soccer, basketball, t-ball and football. When Gavin wasn't in sports, he was either at home dancing and being goofy, or exercising what his mother, Dajia Blount, 26, calls "his funny sarcasm."
"He was so smart that it frustrated you," Dajia said. "I would be like 'I told you to go play 300 times' and he would tell me that I actually only said it four times."
The Blount family, who at the time of Gavin's birth were living in Norfolk, Va., lived a simple life. Gavin's father, Jordan Blount, 27, serves as a Petty Officer Third Class in the Navy and Dajia is a stay at home mom taking care of Gavin and his younger brother, Bryson, who would arrive two years later in 2018.
The young family of four attended sporting events on the weekends to celebrate the end of Gavin and Bryson's week of school. Jordan recalled that Gavin would bring a packed lunch but buy pizza from the school instead.
"He would eat pizza everyday if we let him," said Jordan. "He would come home with his packed lunch and ask if he could eat it later."
The unbreakable dynamic among the Blount family was fueled off of love, laughter and situations like the school pizza that weren't worth getting upset over, but embracing as it spoke of the unique character of their children. This dynamic grew to become the backbone of the family's foundation for their challenging road ahead.
In September of 2021, the Blount family, now a family of five with the addition of Zoey Blount that March, faced an unprecedented challenge when Gavin's eyes began to cross.
It wasn't until a Halloween party that October that Dajia took Gavin to the emergency room because he was not eating and complained of neck pains.
What seemed like a simple illness and a visit to the doctors would actually turn out to be more something far worse, as Dajia was informed – at 3 a.m., still in the hospital – that a CAT scan found a tumor on Gavin's brain.
Gavin, a then-five-year-old, underwent his first brain surgery Oct. 8, 2021. During the procedure, doctors removed 90 percent of the tumor. One week later, Gavin had to return for another brain surgery, as a result of brain swelling.
Two weeks after Gavin's first surgery, The Blounts learned that Gavin had a High Grade Glioma – a malignant tumor that attacks the central nervous system by forming on the brain or spinal cord.
"When he was diagnosed, the doctors told us that 15 percent of kids live to a year and of that 15 percent, only seven percent live to a year and a half and of that seven percent, less than one percent make it to five years," Dajia recalled. "We knew he wasn't going to grow up."
Six days later, on Oct. 28, 2021, Gavin went back to the hospital for a follow-up MRI, which showed that over 30 percent of Gavin's tumor had grown back.
Dajia explained that a normal cancerous tumor may affect one cell at a time but, in Gavin's case, the cancer was spreading by multiples of seven.
"Normal brain tumors only affect one cell next to it, but Gavin had seven points to where one cell would affect seven cells and those seven would affect 49 and it would keep going," said Dajia.
Through the troubling news, Gavin remained optimistic and named his tumor.
"We sat Gavin down to talk about his cancer and we offered that he named his tumor to make the conversations easier and without hesitation he said Fyementria," said Dajia. "We don't even know how he came up with it."
But regardless of Gavin's spirits, Dajia and Jordan did not waste time after learning how aggressive Gavin's cancer was before setting out to wage total war on Fyementria. Gavin was taken to Children's National Hospital in Washington, D.C., where he would receive his third brain surgery in one month. This time, doctors were able to remove 100 percent of the tumor.
"I put myself in Gavin's shoes," said Jordan. "If I was Gavin and Gavin was me, I'd want him to do everything he could to help me. He deserves the best."
After Gavin's brain surgery, he went through radiation therapy every day, Monday through Friday, four hours each day for seven weeks. Since Gavin is a child, he had to be put to sleep – denying him the opportunity to eat breakfast on the mornings of radiation therapy, due to the anesthesia.
"He loved to eat so he was not happy with us," said Dajia. "But whichever parent was taking him, didn't eat that morning either to show that we are going through it with him."
While Gavin was in radiation therapy, the family had learned that he was born with the most aggressive cancer predisposition – Constitutional Mismatch Repair Deficiency (CMMRD).
"Once we found out that Gavin had CMMRD, we opted to all get tested," said Dajia.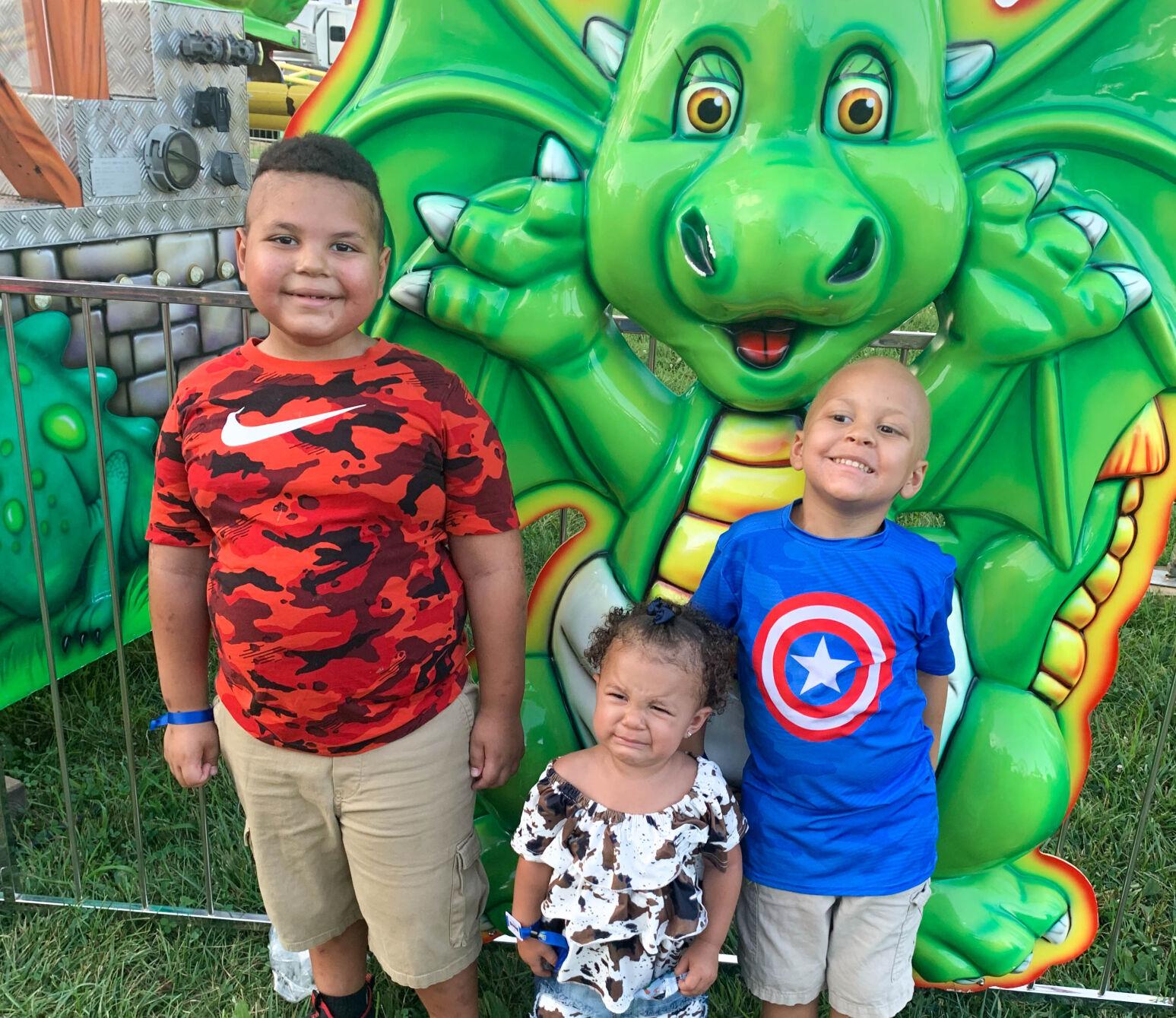 Upon testing, Dajia and Jordan were informed that they both have an inherited cancer syndrome associated with genetic predispositions called Lynch Syndrome. The testing also revealed that their middle son, Bryson, has CMMRD and their daughter Zoey has Lynch Syndrome as well.
"If someone had told us that we could do genetic testing sooner, we would have been screening Gavin so that way we could have been better prepared," said Dajia. "We encourage everyone to do genetic testing."
In the midst of the Blount family's test results and Gavin's radiation therapy coming to an end, Bryson, 4, was diagnosed with Leukemia. The diagnosis occurred Jan. 18, 2022 – two days after Gavin's first round of radiation came to an end.
"Both of our sons were confirmed cancer four months apart," said Jordan. "Our lives couldn't really stop because we had a newborn, but Bryson was diagnosed with the most common Leukemia out there so he was able to start treatment immediately."
Bryson was diagnosed with B-Cell ALL Leukemia which he was able to treat with chemotherapy and a steroid medication he would take at home.
Dajia noted that when Bryson began his treatment, Gavin was his number one supporter and did all that he could to help Bryson be happy.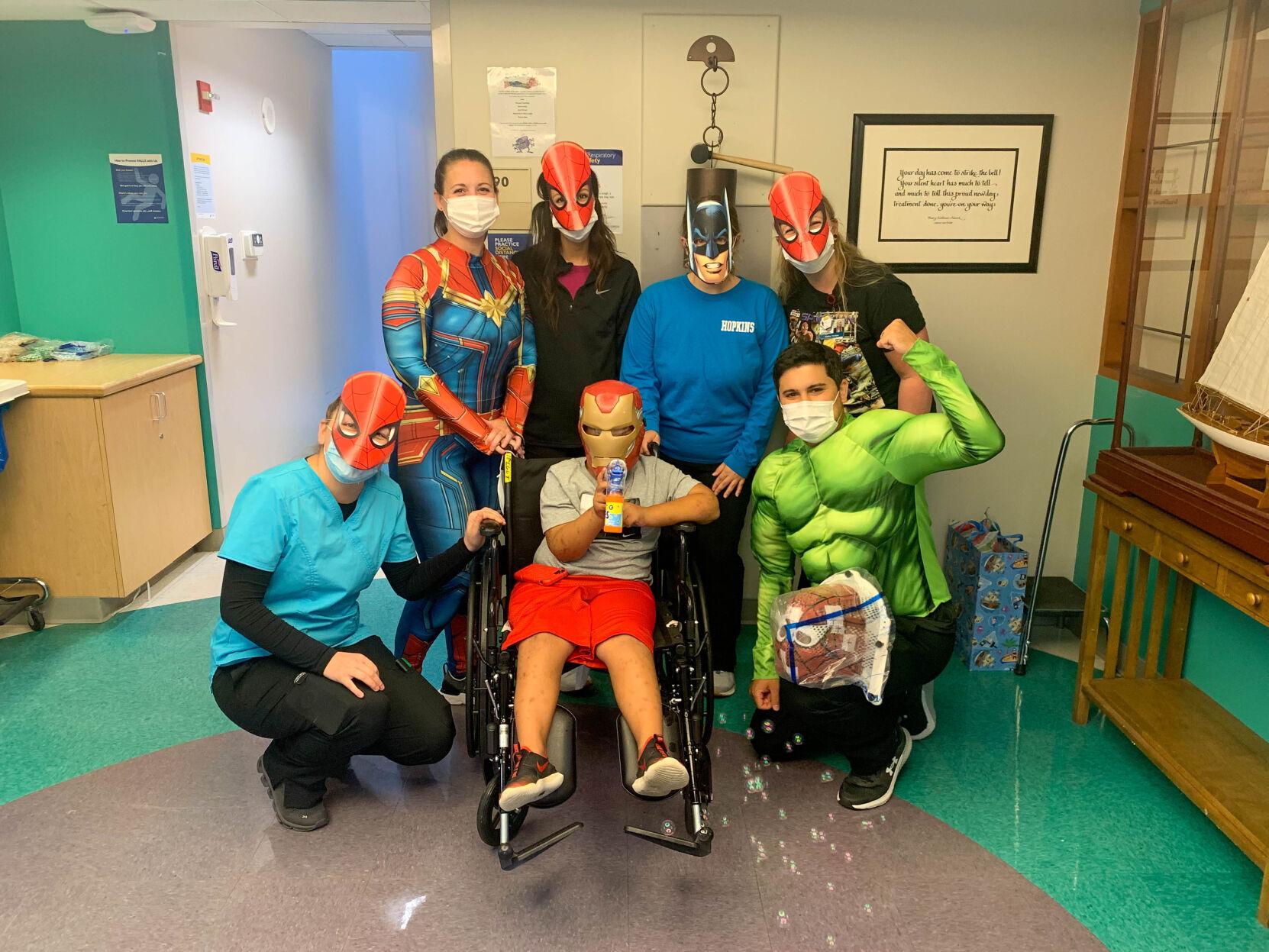 "Gavin was so on top of trying to make him feel comfortable by showing him his treatment and explaining stuff he went through to Bryson," said Dajia. "It is just what kind of kid he was, he was so smart and loving."
Once he returned to school, Gavin, who had been out of classes from Sept. 2021 to Feb. 2022 due to his treatment, scored among the highest in the school for math.
"The kid that had three brain surgeries and was on chemotherapy and radiation therapy scored what? He was smart as a whip," said Jordan. "He didn't skip a beat from the start of his symptoms to his diagnosis and everything after."
In February 2022, things picked up for the Blount family as Gavin began a clinical trial of chemotherapy at Children's National Hospital.
"We would drive from Norfolk Va., to Washington, D.C., be there for about six to eight hours and then drive back once a week," said Dajia.
Jordan explains that for the first five weeks of Gavin's chemotherapy, the family would all travel to Washington, D.C., and stay in a hotel so they could be in close proximity to Gavin.
"Once the hotel rooms became too expensive, one of us would just wake up at 3:30 a.m. and drive four hours into D.C. and leave around 2 p.m. to drive the four hours home," said Dajia.
Outside of the once-weekly hassle of driving from Norfolk, Va., to Washington D.C., the Blount family celebrated a huge milestone as Bryson beat his Leukemia only a month after being diagnosed.
With Gavin's cancer under control and Bryson in remission, March 2022 marked a high point for the entire family as the Make-A-Wish Foundation sent the Blount family to Disney World.
"When Make-A-Wish first contacted us, we said no because we thought it was for kids who were dying – our kids weren't dying," said Dajia. "They explained that that is the misconception with Make-A-Wish and it is more of a reward because of how much our family has gone through."
The Blount family spent their time in Disney World "feeling like royalty," as Jordan described it.
"They would drop off gifts every morning for all three kids, we weren't allowed to carry our own trays of food, they did it for us, and Gavin was the priority on every single ride because he had a flash pass," said Jordan.
Jordan explained that Gavin loved a Spider-Man ride and rode it over and over again, before swimming the rest of the day and enjoying a poolside snack bar where everything was free of charge.
"At the pool in the village, they had a snack shack and Gavin would ask 'anyone want anything? I am going to the snack shack' and come back with four hotdogs, slushies and chips," said Jordan. "He just loved being able to do something and thinking he was a grown up."
After Disney World, Gavin celebrated his sixth birthday. Shortly after his birthday that May, an MRI done as part of a check-up showed that Gavin's tumor had returned, but this time, spread from his brain to his spine.
"Gavin never complained about going to the hospital, he never asked 'why me' he was nice to everyone through everything," said Dajia. "He didn't let it change who he was."
After Gavin's cancer had come back, Dajia and Jordan decided it would be best for them to move to Elkton, where Dajia's family lives because it not only puts them in the middle of the best pediatric hospitals on the East Coast, but because they could rely on Dajia's family for help when they needed it.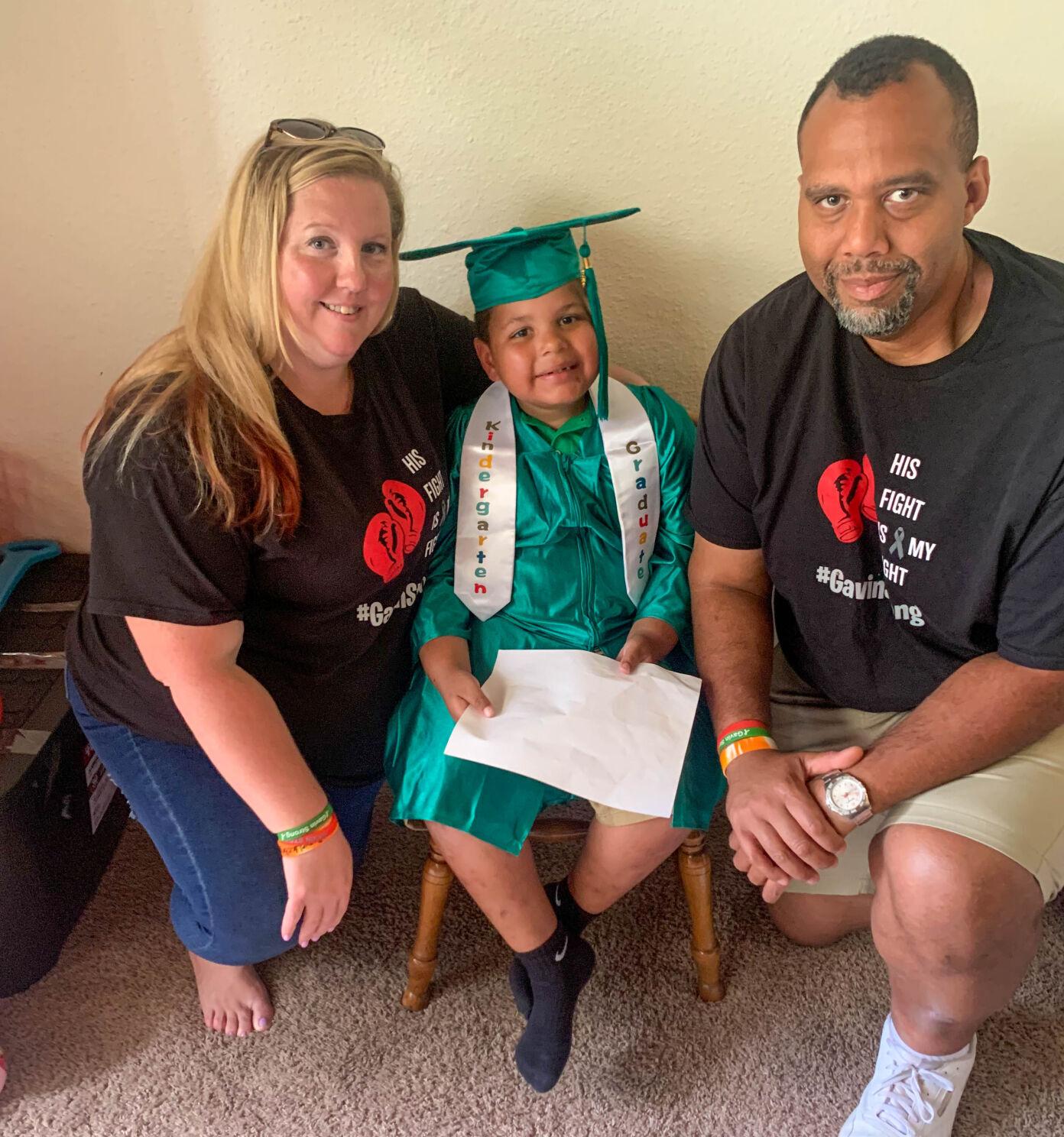 "My sister being a Licensed Practical Nurse really helped us," said Dajia. "Whenever we need anything, she lives right down the road and comes over immediately and every time we needed her to put aside being his aunt and be his nurse, she did it."
When the family moved to Cecil County, Gavin played youth football for Elkton. Gavin's parents recalled that some of his happiest moments were shared on the football field when every single team he played against let him score a touchdown.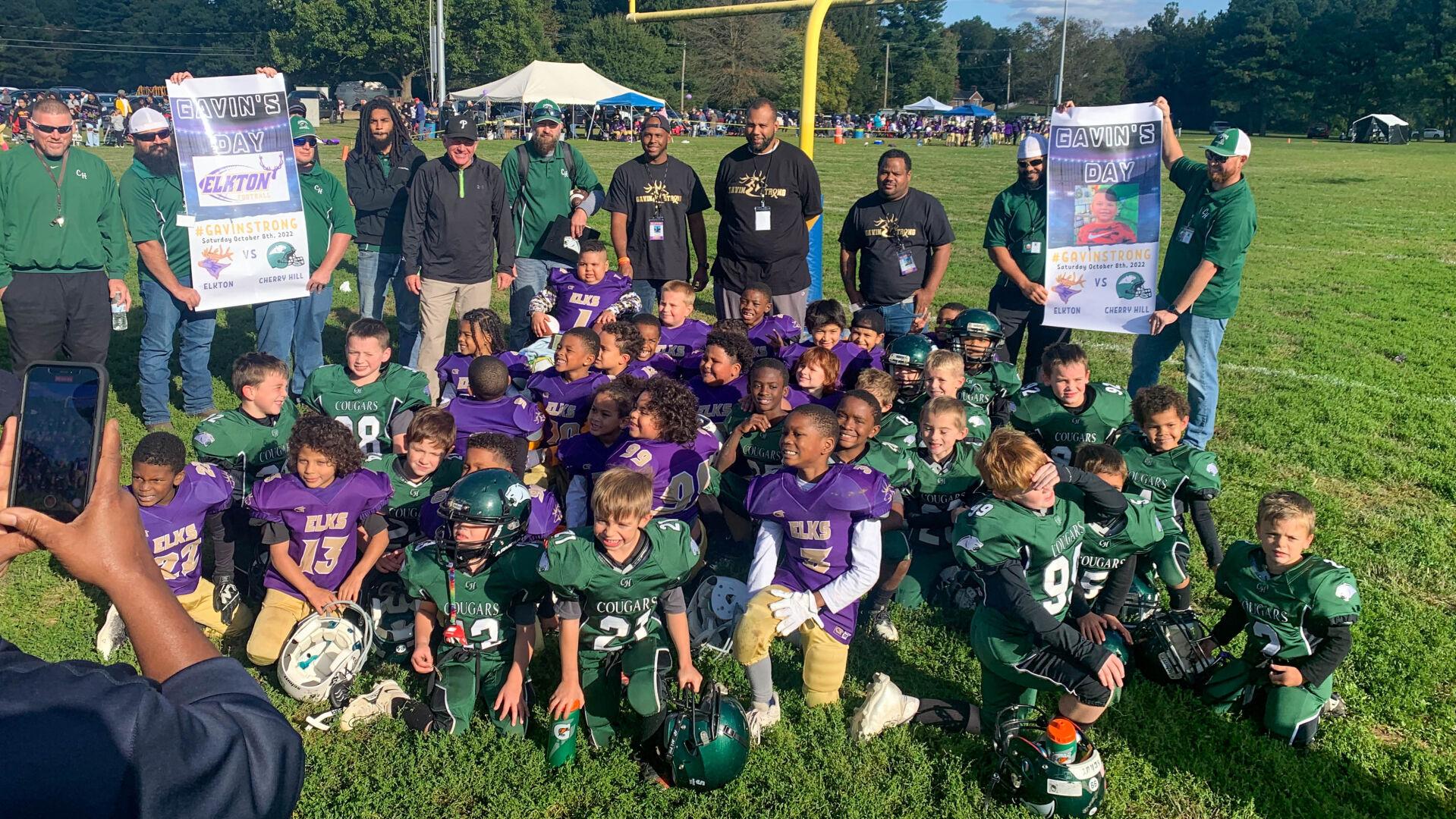 "No team hesitated to let him score a touchdown," said Dajia. "He loved it and he would go to the clinic that week telling all of the nurses how happy it made him."
After another brain surgery in June 2022, and more radiation to slow the rapid growth of Gavin's cancer, Gavin lost his ability to walk in Sept. 2022 due to tumors on his spinal cord. Gavin continued to do chemo and radiation therapy which slowed his cancer, but in Jan. 2023, Gavin lost control of his arms.
"It was hard seeing him wish to be the kid that he was," said Dajia.
On Feb. 7, 2023, Dajia and Jordan decided to change Gavin's care from "fighting" to "comfort" which ended his chemo and radiation therapy and switched him to painkillers.
"Our biggest thing with switching Gavin to comfort care was that we know Bryson will most likely end up with a second cancer and we did not want him to watch Gavin suffer and fear that he would suffer, too," said Dajia.
With CMMRD, the chance of Bryson developing a second cancer before age 10 is above 70 percent.
"Even when he beats Leukemia, there is still a chance he will develop another cancer before the age of 10 because of his CMMRD," said Jordan. "The chance then goes to a 75 percent chance before the age 21, and then a 65 percent chance before the age of 30- after 30, well, they haven't had enough cases of people with CMMRD getting past 30."
Once Gavin began comfort care, Dajia explains that Gavin began to sleep a lot.
"At first he would be awake three hours out of the day, then he was awake an hour and then it was half an hour," said Dajia. "He would be awake only when we would wake him up to eat."
With Gavin's story slowly coming to an end, the family decided to host Gavin's Day – a cookout on Feb. 18, 2023. The event drew over 350 people to the Blount family residence where Gavin's aunts, uncles, cousins and community members visited him in his bed.
"That morning of Gavin's Day, I already knew something was different," said Jordan. "We talked that morning and he fell asleep at 11:30 a.m. and so many people were coming in to talk to him and he wasn't budging but I know he could hear them."
Gavin's Day ended at 8 p.m. and at 10:19 p.m., Feb. 18, 2023, Gavin Jordan Blount passed away peacefully in his bed.
"We 100 percent think Gavin's Day was what he needed because our whole family came to give him hugs and visit him and he received a lot of love," said Dajia.
While family members were visiting Gavin on Gavin's Day, his aunt and nurse, Allegra Coursey, sat by his side the entire day, clearing his nasal passages and monitoring his breathing.
"We have plenty of support through our family so to be able to add to it through something other than love was definitely special," said Coursey, a LPN for Amedisys in Elkton.
Dajia noted that Coursey left Gavin's side for maybe 10 minutes throughout the entire day and credits her for Gavin doing as well as he did leading up to his final moments.
"We lost Gavin in pieces," said Dajia. "When his legs went, the part of Gavin that would run around and dance was gone, when his arms went we lost the part of him that was bossy over the TV, when he started sleeping more, we lost his presence."
Gavin's brain and spinal cord were donated to Children's National Hospital for research.
"We were very big from the beginning on putting him through clinical trials, because we wanted the doctors to learn off of him and we want him to help for the next 10 years so parents do not have to go through what we went through," said Jordan.
Moving forward, Dajia and Jordan are continuing to care for their son Bryson, who has been in remission since Feb. 2022. Bryson's treatment plan involves 24 months of chemotherapy – which he is halfway through, but the road ahead still yields uncertainty.
"Through everything, it was never too much to handle because we were and are going to do whatever it takes for our kids," said Dajia. "The road may get fuzzy again but with Gavin, we know what we want for Bryson."
Anyone interested in supporting the Blount family can visit their GoFundMe.
"We took the year and half from Gavin's diagnosis to the end to really capture and appreciate every single moment with our kids," said Jordan. "We are looking forward to an email that's like '15 year old kid in Texas that Gavin's tumor helped cure,' Gavin was meant to have a big impact on this world."