BALTIMORE — Last week, State Superintendent of Schools Karen Salmon announced that as the coronavirus pandemic continues schools will remain closed and students will continue with distance learning through the rest of the current academic year.
"After extensive discussions with the Maryland State Board of Education, the Maryland Health Department and additional health experts advising the Governor, I am convinced this is the appropriate decision in order to continue to protect the health and safety of our students, educators, staff and all members of school communities throughout Maryland," Salmon said in a statement issued Wednesday, May 6.
While parents and students are likely hopeful that school will resume normal operations in the fall, a recovery plan prepared by the Maryland State Department of Education (MSDE) shows that may not be the case.
"Maryland Together: Maryland's Recovery Plan for Education" is not the definitive plan for reopening schools, as stated by Salmon in an introduction in the 50-page document. She describes it as a resource to establish a baseline that can be modified to suit "each system's unique student population and needs."
"The 'Maryland Together: Maryland's Recovery Plan for Education' was drafted in collaboration with the State Board, local school superintendents, and with input from a wide array of stakeholders throughout our State. This document lays the groundwork for the coming months as we maintain and improve upon online learning opportunities and identifies methods for recovering any lost instruction time that has occurred as a result of the COVID-19 pandemic," Salmon said in her May 6 statement.
On March 12, Salmon called for schools to be closed March 16-27. A day before that was to be lifted, she extended the closure through April 24. Then on April 17, she again extended the order through May 15. May 6 brought the order ending the chance of students returning to the classroom before the summer.
Learning still continues at Kent County Public Schools despite the physical school buildings being closed.
For the remainder of the school year, Superintendent Karen Couch said, the school system is finding ways to mitigate any achievement gaps and ensure equal access to learning by providing paper packets and translating instructions into Spanish.
"We're just trying to use every available resource so that we can ensure that all of students needs are met in every capacity," Couch said in a telephone interview Tuesday, May 12.
Gov. Larry Hogan has outlined a three-stage plan for reopening Maryland's economy as milestones in getting a handle on the COVID-19 pandemic in the state are met.
In her May 6 statement, Salmon said the return of students to full in-class, in-person instruction would be part of the third and final stage of Hogan's general reopening plan. She said there are alternative scheduling approaches that could still bring students into the classroom in the second stage of the governor's plan.
Those alternatives are outlined in the MSDE recovery plan.
"We all want students and educators to feel comfortable and safe returning to school environments," the plan states. "The best way to do that is to identify solutions that make transitions to and from online learning and a return to some form of in-person instruction, as seamless as possible."
The plan leads off with health screenings and improved hygiene measures — masks, temperature checks, hand washing and more — in schools. Continued social distancing would mean smaller class sizes and utilizing larger spaces — gyms, cafeterias, even outdoors — for instruction when and where possible.
"The COVID-19 pandemic has changed the landscape of education more dramatically than any other phenomenon in the history of our state school system. An event of this magnitude will definitely impact how we provide education to students. The new normal of school operations may be measured in terms of before and after the pandemic," the plan states.
The recovery plan offers several possibilities for how to begin bringing students back into classrooms.
School systems could start with one- or two-day rotations, in which students are only at school for one or two full days with learning packets provided the days at home.
Another suggestion is alternating scheduling with A/B days. As outlined in the plan, half the student population would attend school in person for four days in a week, then do distance learning the next week as the other half of the student body attends class in person.
A third option presented is to have elementary students return to school for four days a week, but spread out through more buildings to allow for smaller class sizes. Middle and high school students would continue distance learning until social distancing can be relaxed.
The recovery plan cites research that shows that younger students experience greater negative impact when learning stops or slows and have more trouble processing information from online learning.
"Considering these two points together, school systems may want to consider ways to allocate more or most in-person time to younger students," the plan states.
In addition, the recovery plan cites research showing that when there is a loss or slow down in learning, the impacts are greater on math skills than reading. That led the authors of the plan to suggest school systems consider focusing in-person instruction on math and structure distance learning around reading.
Even after social-distancing mandates are relaxed, the plan suggests possibly phasing in students' return to school by grade band. Elementary students would return the first week of school, followed by middle schoolers and the second week and high schoolers the third week.
In looking at support programs to reinforce learning, the recovery plan outlines potential summer programs, extending learning opportunities by providing instruction on Saturdays and modified calendars that included longer school days. It promotes dual enrollment through which students also take classes at a local college — a program already utilized by a number of Kent County students.
Beyond the standard classroom setting, the recovery plan addresses Career and Technical Education programs, special education and other school operations. It speaks to food safety and student transportation with keeping buses clean and putting in partitions to separate drivers.
It discusses the need for professional development among educators to ensure better online instruction. It also outlines additional issues school systems face with online instruction such as lack of internet access among students.
In her May 6 statement, Salmon said the MSDE will continue to update the recovery plan as additional issues arise. She said department also will engage stakeholders for continued input.
"Any return of students and staff to the classroom depends on the circumstances in each school system, and local school systems will have the flexibility to adapt the model to best serve their students," Salmon said.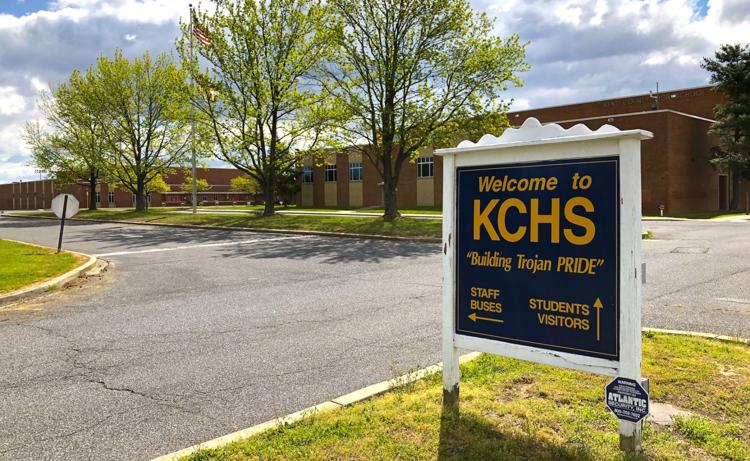 In the meantime, Couch said on May 12 that counselors, social workers and in some cases the school system's principals have gone out to perform home visits. She said that by doing so, staff members have been able to locate all KCPS students during the continued shutdown.
"We're small enough that it's a lot easier in many cases, so our size plays to our advantage," Couch said.
Couch said that prior to the pandemic, not all of the school system's teachers were using online platforms like Google Classroom.
Couch said staff members have faced the challenge of getting "everybody up to speed" before shifting to a primarily online learning platform. She said the first four weeks of the school closure were used for professional development while students utilized paper packets.
"Now all of the teachers are using Google Classroom and some form of online learning," Couch said.
She said that in an effort to address the school system's priority of ensuring no students are at a disadvantage due to lack of internet access, paper packets are still being utilized to ensure continuity of learning for all.
To build on the school system's and the county's networks of internet hotspots, Couch said buses also will be outfitted with the necessary technology to offer access to neighborhoods. She said buses will serve as mobile hotspots, parked for a certain number of hours before moving to another area.
"We're hoping we can get at least 99% of our students to be able to use the online learning platform," Couch said.
Couch said staff members are conducting evening meetings with parents. She said that is one way to ensure parents have support they may need because "they are at home facilitating learning to students."
Couch said special education teachers are "very much involved in ensuring that all the accommodations are met," as well. Additionally, she said teletherapy is working well with counselors reaching out to students to make sure the social-emotional aspect of education is still being addressed.
In a statement issued May 6 after Salmon's announcement of schools remaining closed through the end of the year, Maryland State Education Association President Cheryl Bost, an elementary school teacher in Baltimore County, said educators miss their students.
"We wish we could see them, talk with them, laugh with them, and teach them in person. We wish we could say goodbye to them before the school year ends. Instead, educators, families, and students will continue to do our best during this period of crisis distance learning, while knowing that we have a great deal of work to do now and moving forward," Bost said. "We look forward to the day that we can return to our schools and the everyday joys, challenges, and work of educating our students."
In her statement May 6, Salmon sought to assure Marylanders that students will continue to learn.
"I certainly understand the significant challenges we will face as we move forward to restore public education in Maryland, however, I am confident that with the leadership from local superintendents, and the collaboration among administrators, educators, parents and members of our school communities that we can get through this crisis together and come out stronger than ever for all of Maryland students," she said.